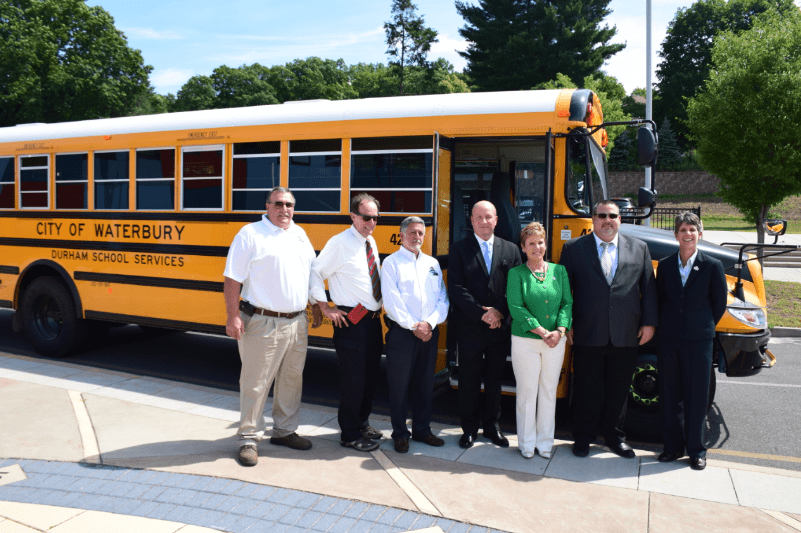 IC Bus of Lisle, Ill., a wholly owned subsidiary of Navistar Inc., has announced that it will complete an order placed by Durham School Services for 149 CE Series school buses powered by the Power Solutions International (PSI) 8.8-liter LP propane engine to serve Waterbury Public Schools in Connecticut.
"IC Bus is honored to partner with Durham School Services in providing Waterbury Public Schools environmentally friendly, reliable and safe transportation," says Trish Reed, vice president and general manager of IC Bus. "To date, this order represents the single largest deployment of propane-powered school buses in the state of Connecticut and demonstrates our customers' continued confidence in our products."
Purpose-built for the school bus industry, the CE Series with PSI propane engine is designed to provide diesel-like performance with higher torque at lower engine speeds. According to IC Bus, the high torque-low speed design greatly benefits stop-and-start applications to allow immediate acceleration after stops and greater hill climbing capability.
According to the company, this not only improves startability and gradability, but also eliminates excessive noise, heat and vibration associated with constant engine revving. Minimal revving reduces engine wear, oil usage and maintenance, while increasing durability and efficiency.
The company notes that the buses are being built at the IC Bus assembly plant in Tulsa, Okla.
Deliveries began in June 2016 and will be complete this summer in time for back-to-school transportation needs in the 2016-2017 school year.