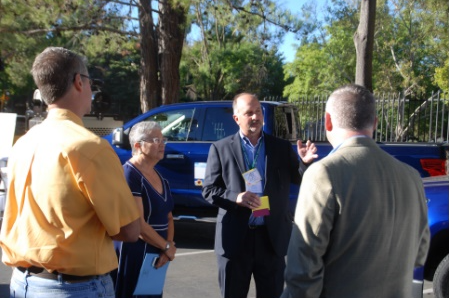 The Diesel Technology Forum (DTF) is releasing a series of short videos featuring industry leaders from Caterpillar Inc., Cummins, CNH Industrial, John Deere, Neste and Volvo Group highlighting the major efficiency improvements and emissions reductions being achieved with new clean diesel technology.
According to the DTF, the videos were recorded at the recent Society of Environmental Journalists 26th Annual Conference in Sacramento during the three-day "Meeting the Climate and Clean Air Challenge of the Future" exhibit. Notably, the conference was the largest meeting of environmental journalists in the U.S. this year and also included a large number of academics and state and federal policymakers.
"These new videos highlight the thinking of industry leaders from the world's largest and most advanced equipment manufacturers that are leading the way to the use of near-zero emission equipment in transportation, construction, agriculture, and rail and marine transport," says Allen Schaeffer, executive director of the DTF. "It's clear that clean diesel technology is the foundation for meeting U.S. and international air quality goals and a low-carbon future.
"When getting a firsthand look at this equipment, people are amazed to learn that today's clean diesel technology features not only fuel-efficiency advancements, near-zero emissions and [greenhouse-gas] reduction strategies, but also integrated efficiency, communications and GPS technology to help this hardworking technology work harder, smarter and cleaner," he states.
In one of the videos, Brian Mormino, executive director of environmental strategy and compliance for Cummins, comments, "When we think about the public policy challenges that we have in terms of improving air quality and meeting our energy and climate challenges, one of the biggest steps we can take is [to] get this clean diesel technology out on the road. So, replace older equipment, and get the new technology out there because it is already achieving those near-zero levels. Just by swapping out older for new, we're helping meet those challenges."
To see the videos, click here.
Photo courtesy of the Diesel Technology Forum.