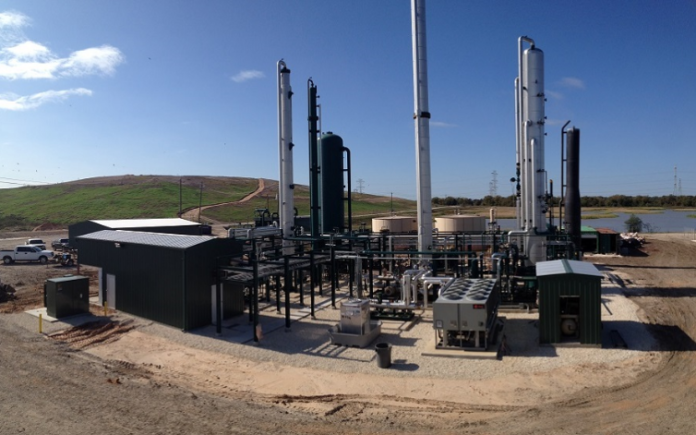 DTE Biomass Energy, an Ann Arbor, Mich.-based subsidiary of DTE Energy, says it has acquired two landfill gas-to-energy projects in Texas, which will generate enough renewable natural gas (RNG) to fuel more than 1,000 transit buses each year.
Specifically, the company has purchased both the operating Fort Bend Power Producers LLC facility just outside of Rosenberg and the Seabreeze landfill gas development project in Angleton. Construction of the Seabreeze plant is expected to commence next month, DTE notes.
As reported, Fort Bend and Seabreeze bring the number of landfill gas-to-energy projects DTE operates in Texas to three and gives DTE five facilities enterprise-wide that convert landfill gas to pipeline-quality RNG.
This low-carbon fuel is extremely versatile and fully compatible with the U.S. natural gas infrastructure. Today, RNG is primarily used to power compressed natural gas and liquefied natural gas vehicles, offsetting the use of fossil-based fuel. The company says this purchase is consistent with its recently announced sustainability initiative to help address climate change.
"These landfill gas-to-energy projects support our continued commitment to renewable energy and growing interest in supplying the renewable vehicle fuels market," says DTE Biomass President Mark Cousino. "We see an increasing demand for natural gas-powered vehicles, and RNG production provides a clean, sustainable fuel source with the benefit of reduced emissions over standard fuel."
Constructed in 2013, the Fort Bend facility generates enough RNG to supply fuel for 560 diesel transit buses annually. Later this year, DTE will increase the output of the project by expanding the plant's capacity to generate enough RNG to fuel over 1,000 diesel transit buses. Forecast to reach commercial operations in the fourth quarter of this year, the Seabreeze facility is expected to produce a similar volume.