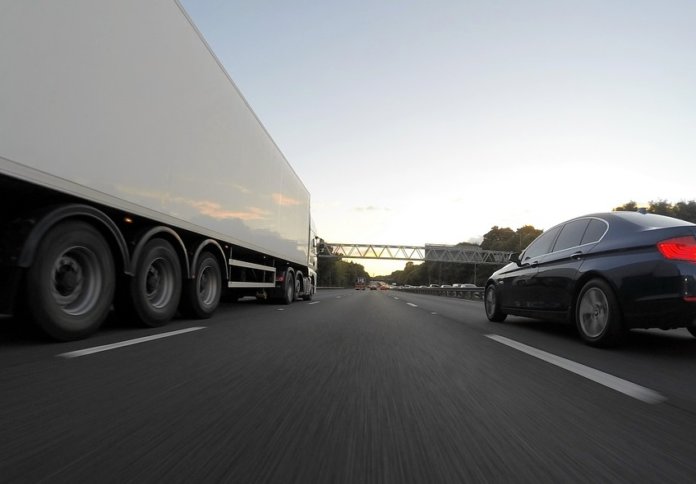 The U.S. Department of Transportation's (DOT) National Highway Traffic Safety Administration (NHTSA) has proposed an update to its heavy-duty natural gas vehicle (NGV) fuel system tank inspection labeling requirement.
Specifically, the NHTSA is proposing to amend the visual inspection labeling requirement in Federal Motor Vehicle Safety Standard No. 304, "Compressed natural gas fuel container integrity," to state that compressed natural gas (CNG) fuel containers for heavy-duty vehicles "should be inspected at least once every 12 months," according to a notice of proposed rulemaking (NPRM).
NHTSA says it is proposing the change because these types of vehicles are "typically used in high-mileage commercial fleet operations, and following the current mileage-based inspection interval on the label means conducting multiple visual inspections per year."
NGVAmerica is applauding the action, which would match recommended guidance the group previously developed after a collaborative review.
"This announcement from NHTSA complements the updated, four-tiered inspection and review process NGVAmerica developed with comprehensive industry support and input from the American Trucking Associations," explains NGVAmerica's president, Daniel Gage. "Per industry recommended practices, full, detailed inspections should be performed annually or whenever cursory reviews uncover signs that a more detailed inspection is needed. Furthermore, recommended reviews and inspections are expanded to cover the entire fuel system and not just the CNG storage system."
In December 2017, NGVAmerica released its CNG Fuel System Inspection Guidance document. NGVAmerica's Technology & Development Committee's Fuel System Inspection Work Group created the new guidance after two years of discussion and review.
After issuing the updated guidance, NGVAmerica petitioned the DOT to remove the mileage requirement and change the 36 months to 12 months for heavy-duty vehicles.
The June 21 NPRM adds, "NHTSA has tentatively concluded multiple visual inspections per year based solely on mileage would not improve vehicle safety for these high-mileage CNG heavy vehicles and could potentially reduce safety. Because the current periodic visual inspection interval is intended for light vehicles and is consistent with the operation of these vehicles, no change is proposed to the periodic visual inspection interval for CNG fuel containers on light vehicles."
NGVAmerica's December 2017 guidance breaks down suggested CNG fuel system inspection into four tiers. The document recommends detailed visual inspection on an annual basis. A summary of the four-tiered recommendation is as follows:
Pre-Service Visual Inspection. This is a detailed inspection of the complete CNG fuel system prior to the vehicle being placed into service. This inspection is to verify that the system meets specifications and applicable codes/standards. 
Cursory Visual Inspection. This inspection should be done every pre- and post-trip by the driver. During this inspection, the driver is checking that there is no damage to the exterior of the fuel system, including the fill receptacle, and that vent lines are capped.
General Visual Inspection. This should be conducted at preventative maintenance events by a trained technician. During this inspection, the technician is inspecting the shields and enclosures of the CNG fuel system, along with any readily accessible CNG fuel system components. 
Detailed Visual Inspection. The final level of inspection is intended to be a thorough inspection of the entire CNG fuel system. This level of inspection will likely require the removal of shielding and/or the use of mirrors and cameras to visually access all components.  
Work group leaders responsible for developing NGVAmerica's guidance included Duane Lippincott, United Parcel Service; Leo Thomason, Natural Gas Vehicle Institute; and Matt Krasney and Dean Stapleton, Penske Truck Rental. Representatives from Agility Fuel Systems, SoCalGas, Ryder, PepsiCo, Waste Management, FortisBC, Clean Energy, Chart, McNeilus, Worthington, Hexagon Lincoln, Momentum, Daimler, CSA Group, the DOT, and the American Trucking Association participated in the document development.
The NRPM's posting in the Federal Register now provides 60 days for public input before a new federal rule is finalized.