According to data compiled by the U.S. Department of Energy (DOE), the median all-electric vehicle (AEV) range in the U.S. has increased by more than 10 miles – from 73 miles in 2011 to 83.5 miles in 2016.
The DOE release states that in model year 2011, there were just three different AEV models available. According to the U.S. Environmental Protection Agency, when these models were fully charged, their ranges spanned from 63 miles to 94 miles.
By model year 2016, the number of AEV models jumped to 12, and the available ranges widened – from a minimum of 62 miles for the Mitsubishi I-MiEV to a maximum of 294 miles for the Tesla Model S 90D.
These ranges are displayed in the below chart, provided by the DOE.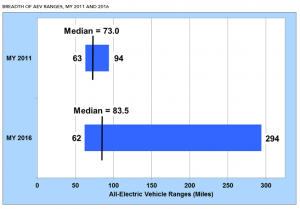 The release also catalogs other models and their mile ranges, including the following:
2011 Nissan Leaf – 73;
2011 BMW Active E – 94;
2016 Ford Focus Electric – 76;
2016 BMW i3 BEV – 81;
2016 Chevrolet Spark – 82;
2016 Nissan Leaf with 30 kWh battery pack – 107; and
2016 Tesla Model X AWD 90D – 257.