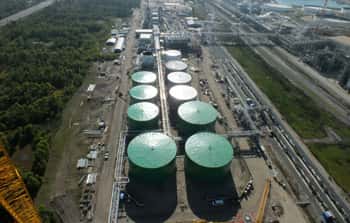 The Diamond Green Diesel (DGD) facility in Norco, La., has gotten the go-ahead to increase its production capacity of renewable diesel.
The DGD facility will up its annual production capacity by an additional 400 million gallons to a total nameplate annual capacity of 675 million gallons.
DGD is a joint venture between subsidiaries of Valero Energy Corp. and Darling Ingredients Inc. According to Randall C. Stuewe, chairman and CEO of Darling Ingredients, the boards of both companies have OK'd the expansion project.
"We are pleased both boards approved the new investment and plan to commence construction immediately," he says. "Our joint venture with Valero exemplifies the combined strength and skills of the largest global independent refiner with the largest low-carbon feedstock supplier in the world."
The expansion project will be in the form of a second, independent parallel plant located next to the existing facility and will also include a renewable naphtha finishing facility to produce approximately 50 million to 60 million gallons of renewable naphtha. The estimated cost of the entire project, which will include improved logistics capabilities, is $1.1 billion. This capital cost is expected to be funded from cash generated by DGD's operations.