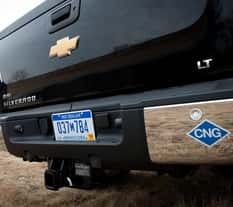 Announcements from General Motors (GM) and Chrysler Group this week suggest that two of Detroit's Big Three see the pickup truck market, particularly in the commercial and fleet sectors, as a potential area of growth for vehicles powered by compressed natural gas (CNG).
GM says its model-year 2013 Chevrolet Silverado and GMC Sierra 2500 HD extended-cab pickups will be available as bi-fuel models featuring a CNG fueling option. The power plant is the Vortec 6.0 L V8 engine, which will switch between CNG and gasoline fuel. GM has focused much of its initial product messaging on the trucks' range: a conservative 650 miles between the gasoline and CNG.
These pickups complement a burgeoning market for GM vans equipped with CNG, such as the Chevrolet Express 2500 and 3500 cargo vans that fleets such as AT&T are adding to their lots in increasing numbers.
'Bi-fuel opens us up to a much broader range of fleet customers,' Mike Jones, product manager of GM Fleet and Commercial Operations, tells NGT News. He notes that the CNG-powered Express vans have proven their value for trips to and from a fleet's base of operations, but the bi-fuel pickups will offer fleet operators the flexibility to dispatch a crew more widely.
'Any fleet customer who is looking to reduce fuel costs and has access to CNG fueling infrastructure will be an ideal candidate for this product offering,' Jones remarks.
For its part, Chrysler's Ram Truck division is planning to manufacture a factory-built CNG model for fleet and commercial customers in North America. Fiat SpA, the majority owner of Chrysler, already uses CNG engines in some of its vehicle platforms in Europe, and the companies suggested earlier this year that CNG vans and trucks would likely become prevalent in the U.S. over the next few years.
According to Chrysler, the Ram 2500 Heavy Duty CNG pickup will feature the 5.7 L HEMI V-8 modified to operate on both CNG and gasoline. The engine has redesigned cylinder heads with CNG-compatible valves and valve-seat materials, along with a CNG fuel rail and injector set. New spark plugs and powertrain control modules are also part of the platform.
Both GM and Chrysler will deliver their CNG offerings through existing channels. GM will build the Silverado and Sierra in its Fort Wayne, Ind., facility and then ship these vehicles to IMPCO Technologies Inc. in Union City, Ind., which will install an aftermarket CNG bi-fuel delivery and storage system.
Chrysler, which has touted the Ram's production-model status, says its CNG trucks will be assembled at the company's heavy-duty truck plant in Saltillo, Mexico.
Perhaps most compelling about these offerings is that they are making their way into circulation soon. Ram Trucks says it is taking fleet orders now and expects to deliver the first CNG vehicles in July, and fleet managers can place orders for the Chevy and GMC bi-fuel pickups beginning next month.
The third of the Big Three, Ford Motor Co., did not join its competitors this week in announcing a dedicated CNG model, but that does not necessarily indicate a void in the portfolio for F-Series enthusiasts.
Aftermarket applications exist to give fleet operators the fueling-cost advantages of CNG in the F-250 and F-350, including natural gas conversion systems from Westport Innovations and Altech-Eco. Westport, in fact, announced earlier this week that it would soon begin taking orders for its WiNG system for the 6.2 L Ford engine in the F-250 and F-350.
Natural gas conversions are also prevalent in Ford's Transit Connect vehicles, with companies such as Clean Energy Fuels Corp. subsidiary BAF offering CNG engines for these models.
Photo © General Motors