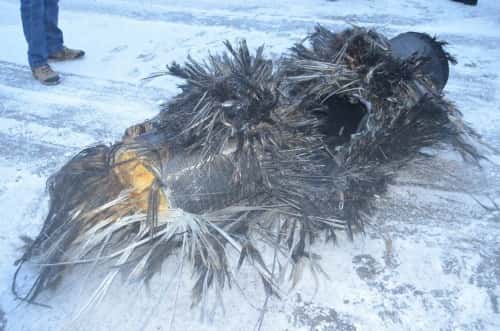 Some new information has emerged related to the accident earlier this week that saw compressed natural gas cylinders on a refuse truck 'explode' during a fire that occurred on the vehicle during its regular commercial operations in Indianapolis.
As NGT News reported on Wednesday, initial feedback from the Indianapolis Fire Department suggested that five explosions – presumably from the natural gas vehicle's five CNG tanks – occurred during a fire in the truck body. However, experts who investigated the scene this week observed evidence that presents a possibly different conclusion.
A source close to the matter tells NGT News that the Clean Vehicle Education Foundation (CVEF) was contacted in order to examine the accident scene and lend its expertise on NGV incidents. Initial feedback from the CVEF representative on-site was that two – not five – of the NGV's cylinders ruptured, and three were 'blown away from the vehicle.'
Also, although it appears that the tank ruptures were possibly caused by 'exposure to fire,' there was no explosion, in terms of natural gas being ignited by the fire. Rather, the ruptures resulted in an immense, instantaneous release of high-pressure gas.
Neither the CVEF nor any other source is prepared to comment on the specific origin of the accident or the nature and sequence of events.
However, the CVEF's preliminary findings will reportedly be released sometime early next week, and there will be an ongoing, comprehensive investigation into the incident.
Photo courtesy of the Indianapolis Fire Department.