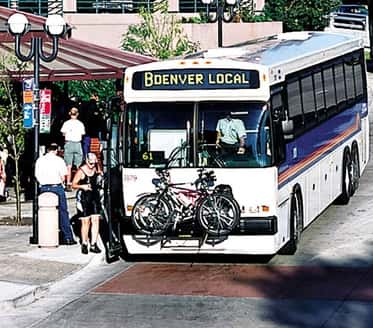 The Regional Transportation District (RTD), the public transit agency serving greater Denver, needed dozens of new full-size buses. The behemoths that were in service at RTD, comprising North American Bus Industries' (NABI) 9100 models, were getting tired. Most had logged hundreds of thousands of miles over a dozen years on the road. It was time to look at replacing part of the fleet.
So, in February, RTD sent out a request for proposals for 52 60-foot, low-floor articulated buses. The agency was welcoming proposals for all technologies – not just diesel, but also hybrid-electric, all-electric and compressed natural gas (CNG) units.
The fuel savings that fleets can reap from switching to CNG are well-documented and often profound. This summer alone, a number of public transit fleets announced large deployments of CNG-powered buses, with Metropolitan Atlanta Rapid Transit Authority, the Utah Transit Authority and Miami-Dade Transit among them. And fleets such as L.A. Metro already have thousands of natural gas buses in service.
In Denver, proposals for CNG buses came from two OEMs – New Flyer Industries Inc. and NABI. The price disparity between diesel- and CNG-powered vehicles was not otherworldly: an 8.5% incremental cost over diesel for NABI's natural gas bus, and a 9.7% premium for New Flyer's CNG-powered unit.
Considering transit buses' high fuel consumption, and that most organizations that are running natural gas buses realize a fuel-cost savings of 50% or more over diesel, it would seem like CNG had a solid chance of being the next fuel of choice in Denver.
It was not to be.
In late August, RTD's board of directors voted unanimously to accept a proposal from New Flyer for 52 diesel-powered 60-footers.
With so many public transit agencies launching CNG initiatives lately, and with such upside in terms of fuel cost, why did RTD balk at natural gas?
First of all, it isn't always about fuel cost – it is often a matter of what level of resources must be expended to make fuel readily available. Clean Energy Fuels worked with RTD to arrive at estimates for how much it would cost to build adequate CNG refueling capacity and infrastructure at two RTD sites.
The initial figure was $3.54 million per location – certainly a sizable sum for most organizations in the public sector today.
But in RTD's case, the real death knell for CNG was the projected cost associated with upgrading those two facilities to accommodate natural gas buses. Dean Shaklee, RTD's general superintendent of maintenance for bus operations, told NGT News that the cost of modifying the agency's all-indoor sites (Platte and East Metro) would be exorbitant.
RTD's analysis, conducted in concert with an outside consultant, found that achieving compliance with fire codes would require an $8.8 million investment in the Platte facility and $12.3 million at East Metro. Modifications to a third RTD facility, in Boulder, were not considered.
Moreover, the facility upgrades would take a minimum of two years to complete, delaying the fleet's replacement timeline. With its existing NABI 9100s exceeding or teetering on the Federal Transit Administration's recommended 12-year service life, RTD didn't have two years to spare.
There were other concerns, too. Namely, RTD officials cited historically higher maintenance costs associated with CNG buses (but acknowledged recent technological advancements); NGVs' uncertain performance in Denver's high-altitude, cold-temperature environment; and the 'extremely volatile' historical prices of natural gas and diesel (which suggests that there is 'no guarantee that the current pricing advantage of natural gas over diesel fuel will continue').
Despite its decision, RTD says it will remain open to all technologies as it looks at fleet replacements down the line. In short, the door is not closed on CNG. RTD operates a fleet of more than 1,000 buses, and the organization will always be looking for the most advantageous business decision.
'I think we definitely want to look at multiple options,' said RTD's Scott Reed. 'This procurement set a pretty good model.'