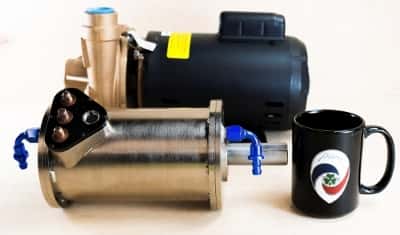 DeltaWing Technology Group and DHX Electric Machines Inc. have signed an agreement granting DeltaWing worldwide rights to make, use and sell electric motors and components specifically designed for automotive applications.
DHX says its new motors are 75% smaller and significantly lighter yet as powerful as conventional motors.
"This is a marriage of two extremely innovative approaches: one bringing to market the state-of-the-art and efficient DeltaWing vehicle architecture and other vehicle platforms, and the other an electric motor tech leader able to make amazing power and torque in a truly tiny package," says Don Panoz, chairman of DeltaWing Technology Group.
Rather than developing a new motor and placing it in conventional vehicle platforms, DeltaWing and DHX say they are combining their respective technologies to reach new levels of EV transportation energy efficiency and range.
DHX Electric Machines' patented advanced cooling uses the Direct-Winding Heat Exchanger (DWHX) to remove the heat right at the source. Each DWHX features tiny channels to dissipate heat, significantly reducing thermal resistance and increasing efficiency.
"Our DHX Falcon electric motor features standard materials, not exotic steels and magnets," says J. Rhett Mayor, DHX Electric Machines' president and co-founder. "It achieves power densities of 120 HP per gallon (25kW per liter) and extraordinary torque of 195 ft-lbs/gallon (70 Nm/l). In simple terms, it delivers the power and torque of the standard sedan's powertrain in the space of a one-gallon can of paint."
"I was amazed when Rhett first showed me this new motor," Panoz says. "Imagine a light and cool-to-the-touch, 20-horsepower motor the size of a 12-oz. can, and one that fits in two hands and puts out 80 or more horsepower. It's simply a transportation game-changer. We'll use it in our DeltaWing road car architecture, which, studies show, is already in the range of the 2025 CAFE requirements."
DHX Electric Machines has relocated to the DeltaWing Technology Group campus in Braselton, Ga. Both companies are ramping up electric motor production and developing applications for multiple DeltaWing Technology Group automotive projects.