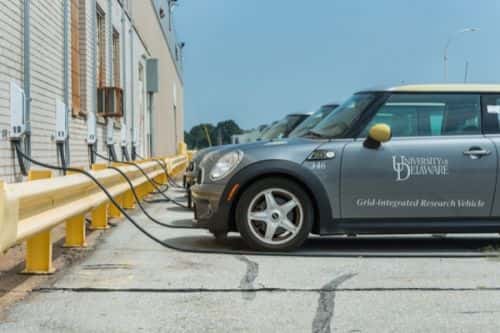 Under a collaborative partnership called 'Charging Up Delaware,' the University of Delaware (UD) and the Delaware Department of Natural Resources and Environmental Control (DNREC) have installed 11 new electric vehicle (EV) charging stations at five locations throughout the state. According to UD, the state is now home to 21 locations that host charging stations.
'Delaware's network of EV charging stations will support the use of electric vehicles, improve air quality, reduce greenhouse gas emissions and contribute to the state's goal of improving the health of Delawareans," says Gov. Jack Markell. 'By strategically locating stations throughout the state, our citizens and out-of-state visitors now have convenient access to charge electric vehicles for both long and short trips."
"It's 96 miles from the northern tip of New Castle County to the southern end of Sussex County where the state of Delaware borders Maryland,' notes Mohsen Badiey, acting dean of UD's College of Earth, Ocean, and Environment. 'Completing the Delaware network for electric vehicles traveling in or through the First State complements regional electric chargers clustered in metropolitan areas of the Mid-Atlantic region like Philadelphia and Baltimore.'
UD says researchers anticipate having a one-year data usage report of the stations in the network by mid-2016. The data will provide important information about the overall usage of the networks and the stations.
Funding for the stations was made possible by Delaware's participation in the Regional Greenhouse Gas Initiative, a market-based cap-and-trade program designed to reduce emissions from the electricity generation sector.
DNREC Secretary David Small says, "This innovative partnership with the University of Delaware is another step forward in our efforts to encourage the wider use of electric vehicles that benefit Delawareans with reduced environmental and public health impacts and decreased greenhouse gas emissions that contribute to climate change."
Small says the EV station project builds on the state's recently announced Delaware Clean Transportation Incentive Program, which offers rebates on the purchase or lease of new or retrofitted battery or plug-in hybrid electric vehicles, as well as dedicated propane- and natural gas-powered vehicles.
Photo courtesy of the University of Delaware