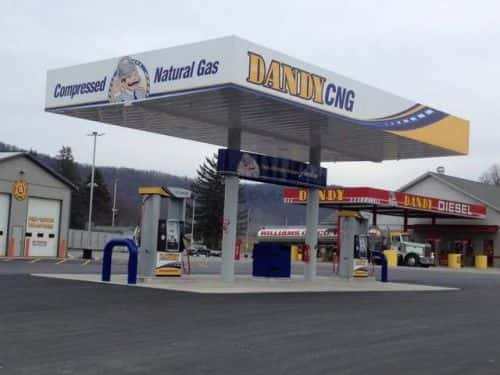 Last week, Dandy Mini Marts Inc. – a company that operates more than 70 convenience stores and fueling spots in Pennsylvania and New York – made its debut on the compressed natural gas (CNG) refueling scene with the grand opening of its first Dandy CNG location.
This station, located on Reuter Blvd. in Towanda, Pa., is just the first that Dandy has in the queue. Another facility in Sayre, Pa., is scheduled to come online in March, followed by stations in Elmira, N.Y., and Mansfield, Pa.
According to coverage in the Star-Gazette (Elmira), Horsehead, N.Y.-based Beavers Petroleum Equipment handled the project installation, which included a CNG dryer, compressor and storage tanks. Two public-access pumps with point-of-sale capabilities are on site.
Read the full article in the Star-Gazette HERE.
Photo by Jennifer Kingsley (c) Star-Gazette