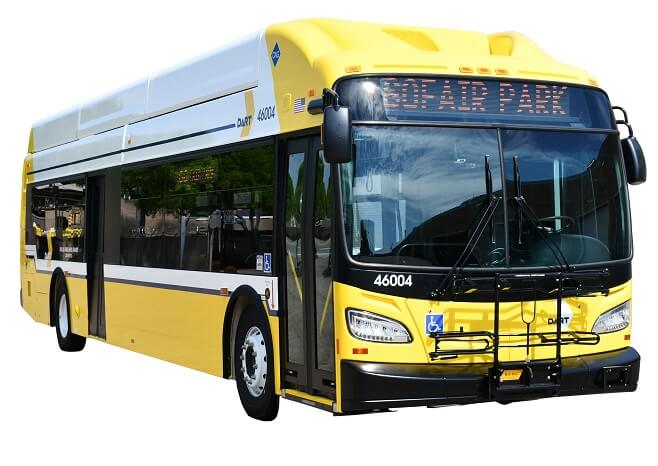 Forty-one new compressed natural gas (CNG) buses will soon hit the streets for Dallas Area Rapid Transit (DART).
The addition of the new buses to the existing fleet will help make it easier for the transit agency to make planned service changes later this summer, according to DART, which has been transitioning from diesel to CNG over the past several years.
Beginning Aug. 12, DART plans to focus the New Flyer buses on peak schedule adjustments by straightening out, simplifying and improving access on several routes in and around Dallas.
The new CNG-fueled buses are 40 feet long. As of May 8, 13 New Flyer XN-40 buses had been delivered from St. Cloud, Minn., to DART, which expects an additional three to arrive each week.
Besides a cleaner, smoother, quieter ride and sleeker appearance, DART operators will have a barrier door shield and sliding window, automatic passenger counters, and a new on-board battery management system. In addition, commuters will have USB ports located at 33 of the seats; larger interior InfoTransit monitors; vinyl seat upholstery; and flush-mounted, tinted windows.