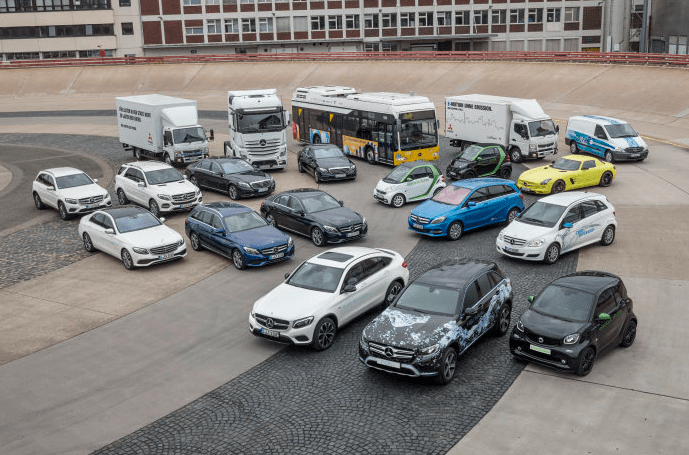 Daimler has announced its plans to invest more than $7.9 billion in green powertrain technologies, including fuel cell plug-in and battery-electric vehicle (BEV) developments, over the next two years alone. Further, the company says it plans to electrify all Mercedes-Benz passenger car models in the next few years.
The German automaker says it will invest a total of $16.3 billion in research and development overall, allocating approximately $6 billion solely to passenger cars.
According to Thomas Weber, member of the board of management of Daimler AG, group research and Mercedes-Benz cars development, this investment will cover a wide range of fleet vehicles.
"The spectrum ranges from the smart city runabout and attractive Mercedes-Benz passenger cars to buses, coaches and trucks of the Fuso brand," Weber says. "We will electrify all Mercedes-Benz passenger car model series step by step."
In order to improve the efficiency of its gasoline- and diesel-powered vehicles, Mercedes-Benz is developing a 48-volt onboard power supply that will enable energy recovery, electric boost and limited electric mode operation – features that previously were the exclusive domain of high-voltage hybrid systems.
As previously reported, Daimler's Mercedes-Benz brand will also introduce the GLC F-Cell, a plug-in hybrid hydrogen fuel cell vehicle, in 2017. Rated at approximately 9 kWh, the battery serves as an additional energy source for the electric motor and can be charged externally by means of plug-in technology. The company asserts that this model will have a longer operating range than existing hybrid models.
Mercedes-Benz currently has 13 plug-in hybrid models already available.
Additionally, Daimler is developing a multi-model electric vehicle architecture for BEVs. The company expects the first model will be launched before the end of 2020.
According to Daimler, the next major technological leap will be made in 2017, starting with the model update of the S 500 e. The company plans to expand the vehicle's all-electric operating range to more than 50 kilometers by way of an advanced lithium-ion battery and further-optimized intelligent operating strategy.
Following that model update, Daimler says the next milestones on the way to the future are the battery-powered Citaro E-Cell and fuel cell-powered Citaro F-Cell, which are based on a shared e-platform that allows tailored electromobility for any city and any bus line. The company forecasts that by the year 2030, 70% of all newly acquired Citaro buses will run on electricity with zero local emissions.
"We are investing massively in electromobility, and we are convinced that the market is now ready," asserts Weber.