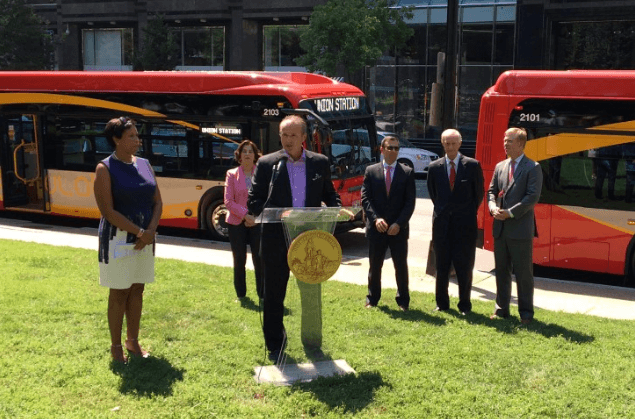 In its latest release, New Flyer of America Inc. says that the Government of the District of Columbia has awarded New Flyer with a contract for 26 Xcelsior clean diesel-powered, 40-foot heavy-duty buses.
According to the transit bus and motor coach manufacturer, the city will continue to replace its existing fleet and is using local funding for the purchase.
The buses, which feature custom interior and exterior design, will be operated exclusively on the city's DC Circulator service in Washington, D.C., which caters to over 20 million annual visitors to America's Capital each year.
"We are proud to continue building our relationship through bus fleet replacement with the Government of D.C.," says Paul Smith, executive vice president of sales and marketing for New Flyer of America. "New Flyer looks forward to helping drive the nation's capital forward with reliability, sustainability and clean energy in mind and supporting millions of visitors to explore Washington each year."
Photo courtesy of New Flyer – Left to right: Mayor Muriel Bowser,; D.C. Councilmember Mary Cheh; Paul Smith, New Flyer executive vice president of sales and marketing; DDOT Deputy Director Jeff Marootian; D.C. Councilmember and WMATA Chair Jack Evans; and DDOT Director Leif Dormsjo.