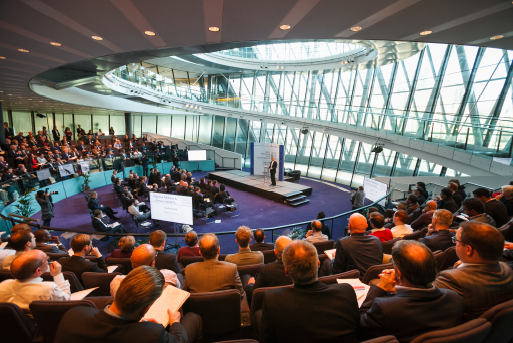 Several zero-emission vehicle (ZEV) stakeholder groups recently joined together at the International Zero Emission Bus Conference and Fuel Cell Bus Workshop (IFCBW) at London City Hall, held Nov. 30 and Dec. 1, hosted by Center for Transportation and the Environment (CTE).
According to CTE, more than 250 people from 22 countries attended the clean transit event, where public and private sectors showcase considerations for the expansion of zero-emission bus technology. CTE hosted the event with the U.S. Federal Transit Administration (FTA) and U.K.-based Element Energy, in partnership with the European Union's Fuel Cells and Hydrogen Joint Undertaking.
There are currently more than 200 zero-emission buses operating in the U.S. By 2018, this number will grow to nearly 600, based on published awards and sales to date. The state of California is presently considering a target goal that would require transit fleets to be entirely zero-emission by 2040.
Jack Kitowski, the mobile source division chief of the California Air Resources Board (CARB), represented the state of California at the event. He spoke on CARB's efforts to adopt zero-emission bus regulatory requirements and presented information on its recent award of more than $70 million in Low Carbon Transportation grant funding. As reported, this funding will go to build 25 fuel cell electric buses and 70 battery-electric buses, along with supporting infrastructure for 10 transit agencies throughout California.
"This funding is accelerating the commercialization of zero-emission technologies in transit applications, in addition to setting the stage for transferring these technologies to other heavy-duty, on-road vehicles," said Kitowski. "California's vision is to transform our fleet to the cleanest emerging technologies in order to meet air quality standards and our state's overall climate change goals."
Driving this effort are state laws requiring that California reduce its greenhouse-gas (GHG) emissions to 1990 levels by 2020 (A.B.32) and to 40% below 1990 levels by 2030 (S.B.32). Furthermore, Gov. Jerry Brown has issued an Executive Order requiring state agencies to take the necessary actions to ultimately reduce GHG emissions to 80% below 1990 levels by 2050.
Also at the event, New Flyer, North America's largest bus manufacturer with nearly 50% market share, presented the company's strategy to provide parallel zero-emission product offerings: battery-electric and fuel cell electric buses on a common platform, the Xcelsior.
According to the company, New Flyer's 60-foot articulated fuel cell electric bus model will be the first of its kind to go through the FTA's Altoona testing, beginning this year, with plans to deploy this bus in service at AC Transit in 2017. CTE says it is working with Boston's Massachusetts Bay Transportation Authority to deploy the battery-electric version of New Flyer's 60-foot bus.
David Warren, New Flyer's director of sustainable transportation, notes, "From an original equipment manufacturer's standpoint, the significant advancements in battery and fuel cell technology and commercial offerings over the past five years has created tremendous opportunities to expand the practicability of zero-emission propulsion to a wide array of everyday transit bus services. We're looking forward to collaborating with other international clean air leaders to build upon this progress."
A number of U.S. ZEV transit operators were on hand in London, as well, to share the practicalities of fleet integration and operation, including AC Transit (Oakland, Calif.); Foothill Transit (West Covina, Calif.); Orange County Transportation Authority (Orange, Calif.); Stark Area Regional Transit Authority (Canton, Ohio); and SunLine Transit (Thousand Palms, Calif.).
Notably, the Los Angeles Mayor's Office gave a statement at the event that the city was committing to make zero-emission buses 20% of its fleet purchases in 2017.
According to CTE, the event was unique in the strength of representation across all four primary zero-emission bus stakeholder groups: transit operators, industry, government and consultancy/research.
"CTE is proud to bring together the network of key players to explore the short- and long-term pathways towards [zero-emission bus] commercialization," says Lauren Justice, project manager with CTE and Zero Emission Bus Conference coordinator. "The breadth and depth of the information discussed illustrated confidence in the sector."
CTE is presently involved in 25 battery-electric and fuel cell electric bus projects as technical project lead or consultant to deploy more than 100 zero-emission buses.
This is the 10th edition of the IFCBW, continuing efforts begun in 2003 by the U.S. Department of Transportation, the U.S. Department of Energy, and the European CUTE/HyFLEET CUTE programs. CTE and Element Energy have begun making plans for the next International Zero Emission Bus Conference, to be held in mid-2018.
Photo courtesy of CTE.