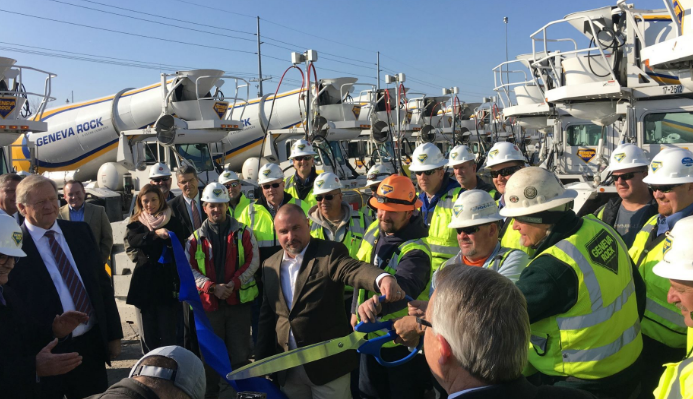 In one of the largest air quality investments made by any construction company in the state of Utah, Geneva Rock Products says it has invested over $8 million in a fleet of 25 compressed natural gas (CNG) ready-mix concrete trucks and a new fueling station to serve them.
According to the company, the new fueling station is located in South Salt Lake and can fill all 25 trucks simultaneously, offering significantly lower emissions than its diesel counterparts: 50% less fine particulate matter and 90% less carbon monoxide.
"Geneva Rock is excited to announce a new eco-friendlier fleet of 25 CNG ready-mix concrete trucks and a new innovative CNG fueling station. Lowering our emissions is of utmost importance to us as a company and guides our overall operating decisions," says Jim Golding, president at Geneva Rock. "This specific purchase and installation is just part of the company's overall clean air initiative, in which the company has already invested more than $30 million to lower emissions and improve Utah's air quality."
"We all share ownership and responsibility for Utah's air quality. We applaud Geneva Rock for leading its industry by making this significant investment in new clean natural gas concrete trucks to help contribute to a better air quality solution," says Ted Wilson, executive director at Utah Clean Air Partnership (UCAIR). "There is no silver bullet to solving Utah's air quality, but every small change adds to a collective bigger step toward better health, a better economy and better overall quality of life for all of us."
Brad Markus, customer relations general manager at Questar Gas, comments, "The company's investment in a clean-fueled fleet and on-site compressed natural gas fueling station is an excellent example of how a business demonstrates leadership when it comes to being a good environmental steward and in using an American-produced fuel."
Geneva Rock's CNG trucks will be the largest fleet of concrete mixers in the state – and perhaps the only one. According to the company, Geneva Rock is the first ready-mix contractor to own and operate a natural gas filling station in the state of Utah.
In addition to this announcement, Geneva Rock donated $25,000 to UCAIR to support its grants and education programs in 2017.