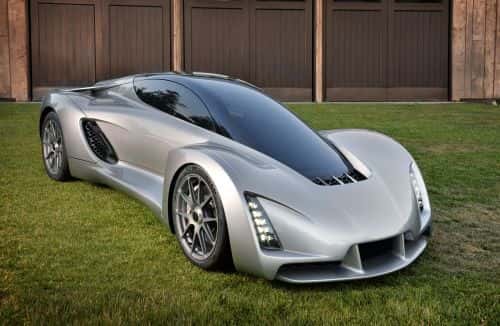 San Francisco-based Divergent Microfactories has unveiled Blade, a prototype 'supercar' equipped with a 700-hp bi-fuel engine that can use either compressed natural gas (CNG) or gasoline. According to Divergent, Blade goes from 0-60 mph in about two seconds and weighs around 1,400 pounds.
Divergent Microfactories says it has created a new approach to auto manufacturing that incorporates 3D printing to dramatically reduce the pollution, materials and capital costs associated with building automobiles and other large complex structures.
"Society has made great strides in its awareness and adoption of cleaner and greener cars. The problem is that while these cars do now exist, the actual manufacturing of them is anything but environmentally friendly," says Kevin Czinger, Divergent's founder and CEO.
"At Divergent Microfactories, we've found a way to make automobiles that holds the promise of radically reducing the resource use and pollution generated by manufacturing," he continues. "It also holds the promise of making large-scale car manufacturing affordable for small teams of innovators. And as Blade proves, we've done it without sacrificing style or substance.
"We've developed a sustainable path forward for the car industry that we believe will result in a renaissance in car manufacturing, with innovative, eco-friendly cars like Blade being designed and built in microfactories around the world."
As Divergent explains, its technology centers on its proprietary solution called a Node: a 3D-printed aluminum joint that connects pieces of carbon fiber tubing to make up the car's chassis. The company says the Node solves the problem of time and space by cutting down on the actual amount of 3D printing required to build the chassis and can be assembled in just minutes.
Divergent claims that in addition to dramatically reducing materials and energy use, the weight of the Node-enabled chassis is up to 90% lighter than traditional cars, despite being stronger and more durable. This results in better fuel economy and less wear on roads, the company adds.
Divergent says it plans to sell a limited number of high-performance vehicles that will be manufactured in its own microfactory.
Photo courtesy of Divergent Microfactories: The 3D-printed, bi-fuel Blade prototype.