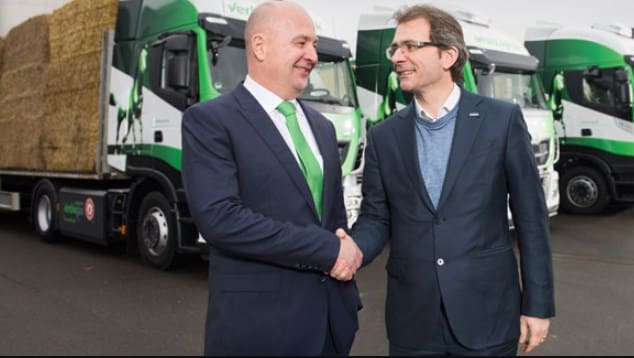 Iveco, the commercial vehicles brand of CNH Industrial N.V., recently marked the delivery of its 1,000th natural-gas-powered Stralis NP truck after supplying five of the heavy-duty vehicles to Germany-based VERBIO Logistik GmbH, a subsidiary of VERBIO Vereinigte BioEnergie AG.
According to Iveco, the five trucks will be fueled by biomethane produced from straw in VERBIO's own plant in Schwedt, and the fuel will significantly cut emissions compared to conventional diesel trucks.
"VERBIO is a key customer for us in the area of alternative traction with natural gas because their fuel comes from a renewable source. We strongly believe that biogas is the new hydrogen!" said Pierre Lahutte, Iveco brand president, speaking at the handover of the vehicles in Schwedt. "VERBIO's choice of the Stralis NP for their fleet clearly shows that, with biogas, heavy transport can be carbon-neutral and profitable today."
In view of the use it has planned for the five Iveco Stralis NP trucks, VERBIO selected the 400 hp mono-fuel compressed natural gas (CNG) version. With two fuel tanks containing 920 liters of CNG or biomethane, this version has a range up to 570 km, according to Iveco.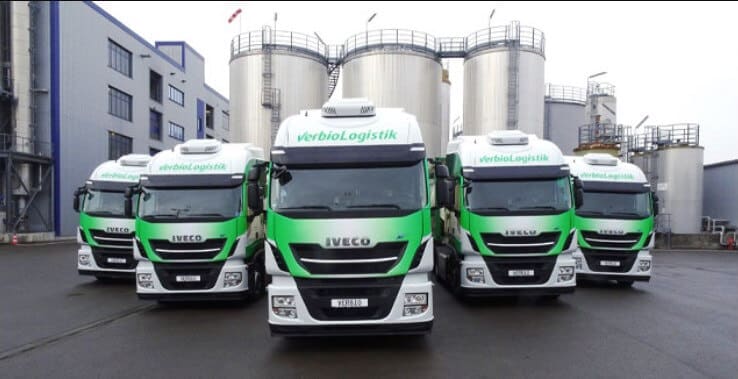 "The Iveco Stralis CNG trucks are a logical and up-to-date expansion of our vehicle fleet. This fleet of around 80 trucks already includes 12 dual-fuel trucks, which are powered by diesel and CNG/biomethane," said Bernd Sauter, COO of procurement and logistics at VERBIO. "The mono-fuel CNG/biomethane traction of the five new Iveco vehicles enables even greater CO2 and cost efficiency."
According to Iveco, VERBIO produces biomethane on industrial scale from straw and residues using technology developed in-house. The end product, called "verbiogas," is used as a biofuel across Germany for CNG vehicles in the private, public and commercial sectors.
Photos courtesy of Iveco