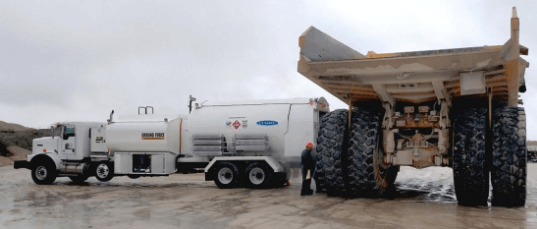 Chart Industries, a cryogenic equipment manufacturer, and Ground Force Worldwide have announced the launch of a dual liquefied natural gas (LNG)/diesel fueling truck, which was designed and built for a large rock quarry customer in Florida.
According to Chart, the customer is using the vehicle as a fueling solution for its recently converted fleet of haul trucks, which were retrofitted with LNG conversions.
The truck is based on a Kenworth T800 and Chart's Orca unit, which celebrates its 21st birthday this year.
Chart says that the two companies had not worked together previously, noting that this was Ground Force Worldwide's first excursion into LNG and cryogenics.
With the mining sector showing increased interest in LNG and the major rigid truck OEMs developing LNG and LNG/diesel hybrid haulers, there's certainly scope for this valuable partnership to flourish.
Notably, the partners have been able to gather information from the field, with the quarry reportedly impressed with the unit's build quality and the ability to fuel 50% faster than with its previous system.