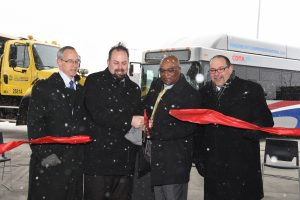 The Central Ohio Transit Authority (COTA) and the City of Columbus hosted a ribbon cutting on March 8 to celebrate the opening of their new compressed natural gas (CNG) fueling station.
The station, built as a partnership between the two entities, is being used to fuel City of Columbus vehicles. It is also open to the public and companies with CNG fleets.
"This facility is the result of an innovative partnership between COTA and the City of Columbus," said Emille Williams, interim president/CEO of the Central Ohio Transit Authority (COTA), at the event. "COTA and the city worked together to maximize public resources by sharing the infrastructure needed to build and operate the fueling station. This project represents our shared commitment to the operation of green fleets and to new and emerging technologies."
The station is located at 1396 McKinley Ave. and is open 24 hours a day. The fast-fill station features four fueling lanes, with two lanes open to the public. The City of Columbus contributed $3.7 million to the $4.3 million construction contract with R.W. Setterlin Building Co.
In 2013, COTA committed to phase out diesel-powered vehicles from its fleet and completely transition to CNG by 2025. Today, 150 of COTA's 321 buses are powered by CNG. COTA's first CNG fueling station opened in 2013 and is adjacent to the new facility. The two stations share compression infrastructure.
COTA says it has saved approximately $10 million in fuel costs by transitioning to CNG since 2013.