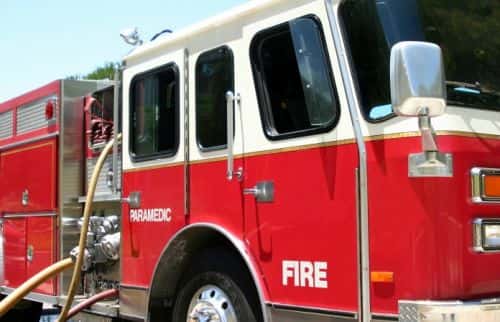 Last Thursday morning, a compressed natural gas (CNG)-powered recycling truck caught fire in Chesapeake, Va., with the flames destroying the truck and damaging an adjacent house.
According to local reports, truck operator TFC Recycling says a preliminary probe suggests a hydraulic leak at the engine was the origin of the fire, but a Chesapeake Fire Department spokesperson tells NGT News the department has yet to determine the official cause of the incident. However, both parties agree the roof-mounted CNG tanks' pressure-relief devices (PRDs) did activate.
Although Capt. Scott Saunders was not on scene, he has read the department's report on the truck fire. Saunders tells NGT News that by the time firefighters arrived at around 8:45 a.m., the truck was already engulfed in flames, the PRDs had begun releasing the CNG, and ignited gas from the tanks was shooting toward a nearby home.
"The fire coming from the tanks reached the house," he says. "It was basically like flame throwers."
Saunders says the firefighters used a water nozzle atop their truck to try and extinguish the TFC Recycling vehicle and used fire hoses to put out the house flames. The first responders then entered the building to search for occupants, but according to 13NewsNow.com, a couple that was inside the home during the incident had already safely exited before the firefighters arrived on scene. Ultimately, no one was injured, and the fire damaged the front of the house and the attic.
Although some witnesses reported hearing an explosion, Saunders says the fire department's write-up does not include any indication that there was "an actual explosion."
In fact, 13NewsNow.com cites another Chesapeake Fire Department official saying that the PRDs successfully kept the CNG tanks from blowing up; rather, the recycling truck's tires popped, which might explain the reported explosion.
At press time, TFC Recycling could not be reached for comment. In a statement obtained by WAVY.com, however, the recycling company says it will keep working with the fire department to investigate the incident.
"Based on our preliminary investigation at the scene, there appears to have been a hydraulic leak near the engine that caught fire, which the driver attempted to contain," the statement explains. "The CNG tanks are designed to vent when under external pressure to prevent rupture or explosion. As the tanks heated … the relief valve discharged and the venting, as expected, began. The venting gas then came in contact with the flames and ignited."
In the statement, TFC Recycling vows to work with its insurance firm to pay for repairs to the damaged home. Furthermore, the company notes that it has been operating CNG trucks for more than three years "without incident," later adding, "Accidents of this nature across the country are extremely rare, and CNG vehicles have an exemplary safety record."
NGT News will continue to follow the story and provide updates as more information is known.