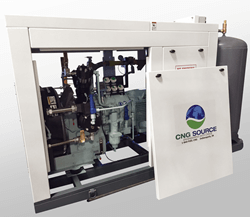 CNG Source, a provider of compressed natural gas refueling solutions, has launched a new line of equipment called Fuel Ranger Pro.
Designed for private refueling operations of small and mid-sized natural gas vehicle fleets, the new product provides an output of 10 gallons per hour to 48 gallons per hour, with flexibility for pairing two Fuel Ranger Pro packages and doubling the fuel output. CNG Source also notes that the package was designed to maximize uptime: rated for 100% continuous-duty cycles and 12,000 hours between equipment overhauls. The product features a standard five-year warranty (and optional lifetime warranty), and CNG Source guarantees parts availability for 35 years.
"The Fuel Ranger Pro family features a number of key advantages, including a compact design, short lead times and a highly competitive pricing meeting the most demanding budgets" says Karim Bousfiha, vice president of marketing and business development for CNG Source.
Fuel Ranger Pro is currently available in the U.S. and Mexico, and the line will later be offered worldwide through distributors.