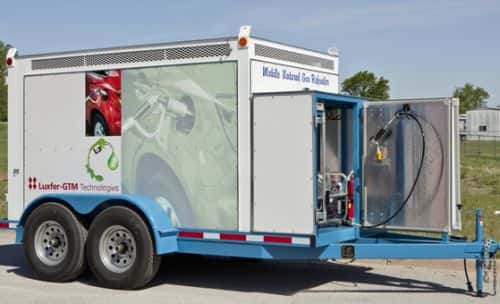 Luxfer-GTM Technologies LLC, a joint venture between Luxfer Group and GTM Technologies, has introduced its first two alternative-fuel solutions since forming its partnership last August.
The GTM1350-Refueler is a mobile compressed natural gas (CNG) refueling solution designed to support remote natural vehicle fleets or for use wherever a mobile station is needed. The GTM1350-R, which is trailer-mounted and can be towed behind a 3/4-ton pickup truck, has a CNG capacity of 46,000 SCF (335 DGE) and an integrated booster pump and dispenser. CNG storage is handled via Luxfer G-Stor Pro Type 3 carbon composite cylinders.
Luxfer-GTM says the pump can be powered either by outside compressed air (100 psig) or from pneumatic energy stored in an isolated group of cylinders within the trailer, providing users with the ability to fill vehicles without the need for external power. Standard equipment includes both NGV1 and NGV2 filling receptacles mounted in a separate panel, allowing users to refill the trailer at conventional CNG filling stations. The GTM1350-R can be fast-filled and fast-discharged up to 75 MSCF/hr.
The joint venture has also debuted the G-Pak gas-storage system, which is enables the storage and transportation of gases such as CNG and hydrogen at pressures up to 5,000 psig. Luxfer G-Stor Pro cylinders fitted with high-flow valves and protected by a glass-bulb-based pressure/thermal safety system is integrated into an all-aluminum frame that encloses the cylinders. The system also features a regulated control panel, a high-flow regulator, easy-to-use push-pull valve actuators and built-in NGV1 receptacles that allow the G-Pak to be filled at most CNG filling stations. Customized control panels are also available.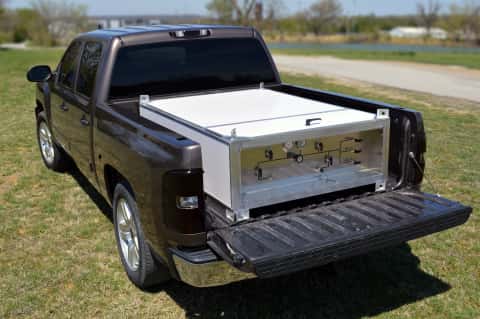 G-Pak assumes a small footprint, the companies say, enabling two or three units to be stacked in the bed of a standard pickup truck – drivers do not need to be hazmat-endorsed. The CNG capacity is 21 DGE at 3,600 psig; hydrogen capacity is 6.3 kg at 5,000 psig.
For details, call (415) 856-0570 or send an e-mail to sales@gtmtechnologies.com.