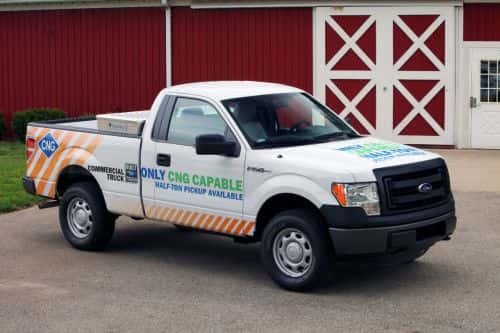 Ford Motor Co. says an OEM gaseous-fuel prep package will be offered for the 2014 F-150 half-ton pickup truck beginning this fall. The prep package is a key suite of factory equipment that enables vehicles to be converted to compressed natural gas (CNG) or propane autogas (LPG).
The company notes that this equipment option, which puts hardened valves, valve seats, pistons and rings into the Ford 3.7-liter V6 engine, can give fleet operators a driving range of up to 750 miles in a bi-fuel configuration. Dedicated CNG systems will also be available for the F-150.
The prep package itself is a $315 factory option. Customers then choose a Ford Motor Co. Qualified Vehicle Modifier (QVM) to perform the full alt-fuel conversion. The total cost of the conversion depends mainly on the truck's gaseous-fuel tank configuration.
Ford's sole QVM for propane autogas conversions is ROUSH CleanTech. The company has a wide portfolio of propane offerings for Fords, including conversions for the 5.4-liter and 6.8-liter engines on E-Series vans, wagons and cutaway/stripped chassis; F-Series Super Duty pickups and F-350 chassis cab (6.2-liter); and even the F53 and F59 stripped chassis (6.8-liter).
ROUSH CleanTech has not yet certified a propane system for the 3.7-liter V6 on the F-150 – a fact that the company's director of marketing, Brian Carney, confirmed with NGT News.
'The F-150 is not currently in our product cycle plan mix for 2014 model-year,' he says. 'We are actively focused on delivering a new fuel system solution next year for the Ford Transit, and we are currently evaluating what vehicle platform or technology will be our next product development focus.'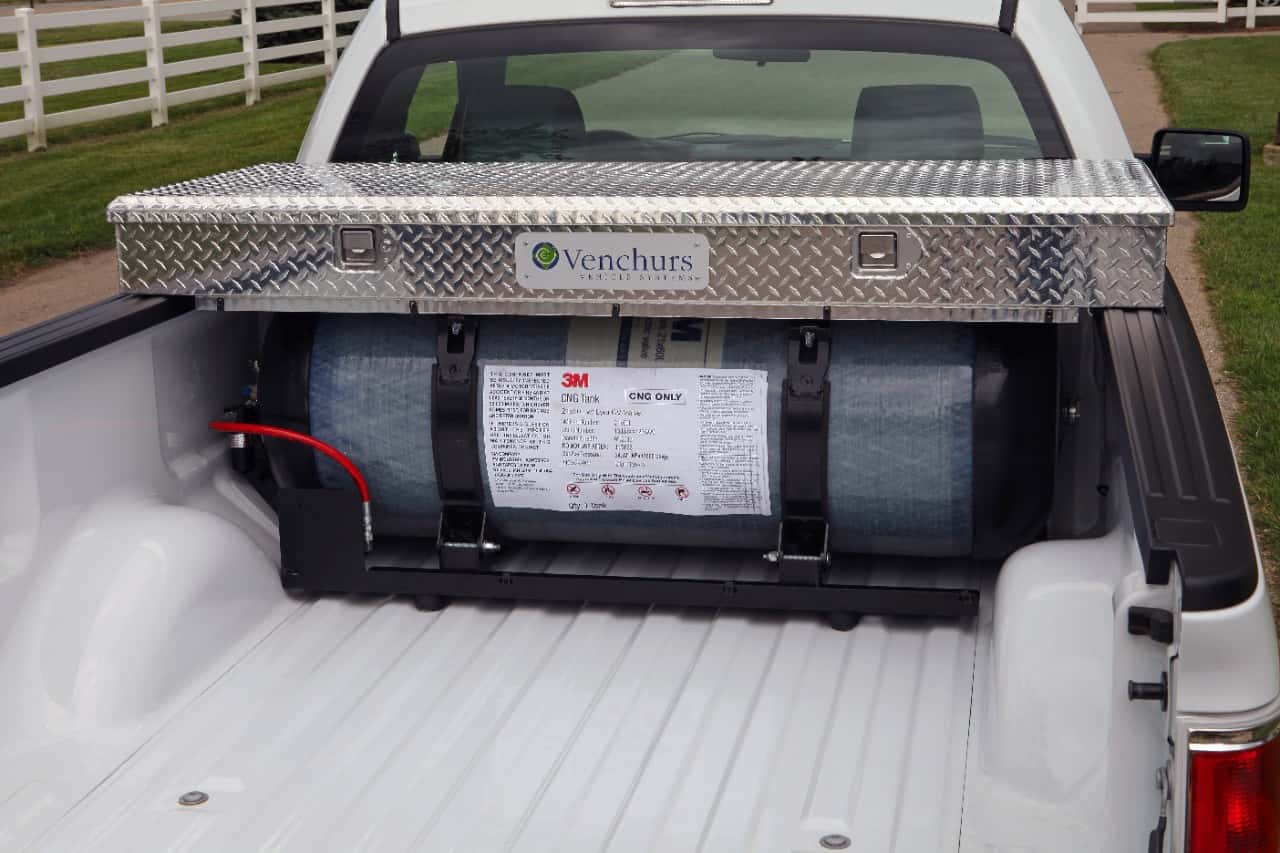 Six companies have QVM status for CNG conversions across various vehicle platforms: Westport, BAF Technologies (which Westport recently acquired), Venchurs Vehicle Systems, Landi Renzo, Altech-Eco and IMPCO Automotive.
Venchurs announced on Wednesday morning that it would be offering CNG conversions for the F-150. Both bi-fuel and dedicated CNG systems will be available, and there are three CNG tank options: 12.8 GGE, 17.8 GGE and 23.5 GGE. Venchurs is among the first vehicle upfitters to offer 3M's new line of CNG tanks, which were released back in February.
A Ford representative told NGT that Venchurs' system for the F-150 is already certified through the QVM program. (This particular certification is not one and the same as EPA or CARB emissions certification.) At the moment, Venchurs is the only gaseous-fuel QVM to notch this certification, and the company is taking orders now.
Westport announced on Aug. 1 that it, too, would be integrating its Westport WiNG Power System in the F-150 for customers in the U.S. and Canada.
The company says complete pricing and ordering information will be available next month, and it anticipates that deliveries of CNG-powered F-150s will begin in the first quarter of 2014.
Altech-Eco's Larry Abbott says his company has been focused on CNG fuel-system development for the 3.7-liter V6 and will be providing conversions for the 2014 F-150 when they start coming off the assembly line in a couple months.
'We are definitely in the game on this one,' he says.
Altech-Eco will be offering both bi-fuel and dedicated CNG systems, with multiple tank configuration options from 8.9 GGE to 21.2 GGE. The installed price for the company's system starts at $5,925.
For its part, IMPCO told NGT that the company will not have a CNG system for the F-150 until late next year, and Landi Renzo said that the company does not yet have a CNG system for the F-150 in its development plans.