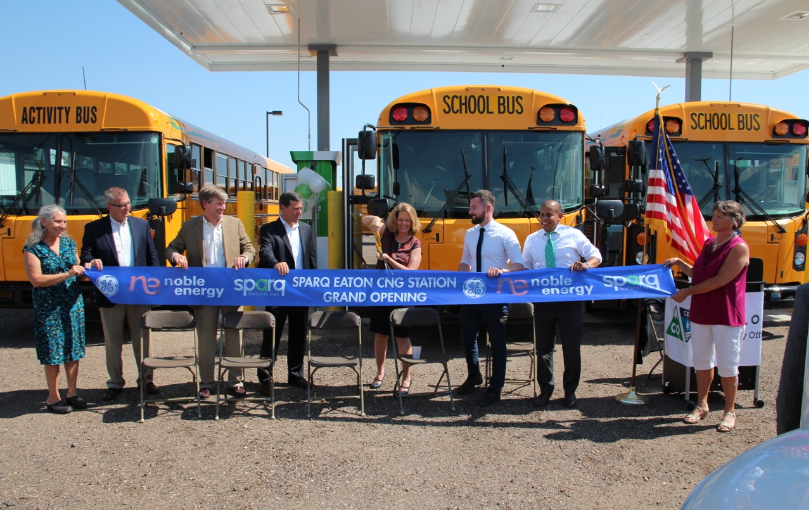 Sparq Natural Gas, GE Oil & Gas and Noble Energy have announced the opening of the seventh public compressed natural gas (CNG) station in Weld County and the first installation of GE's latest, optimized CNG In A Box modular technology – a compact, turnkey solution that makes it faster, easier and cheaper to build stations and to fuel fleet operators' natural gas vehicles.
According to the companies' joint release, the Eaton, Colo., station – Sparq's third in 12 months – took only four months from groundbreaking to grand opening by using GE's modular system approach.
"Sparq is committed to providing Colorado natural gas vehicle operators a regional network of high-performing, attractive and conveniently located CNG stations. CNG offers fleets and consumers alike a discount at the fuel pump while burning a clean Colorado-produced fuel," says Norman Herrera, Sparq's CEO.
The companies state that this development is in line with both the Colorado Energy Office's ALT Fuels Colorado program and Weld County's Smart Energy program, playing a critical role in the build-out of alternative fuel corridors with natural gas stations across Colorado.
Strategically located along Highway 85's "CNG Corridor," linking I-70 and I-80, this station expands the region's CNG infrastructure and provides better access to the fuel alternative, enabling more public- and private-sector businesses, municipalities, and county government in northern Colorado to transition their fleets to CNG.
According to Sparq, the station was funded in part by a $500,000 grant from the Colorado Energy Office's ALT Fuels Colorado program.
"Expanding the use of natural gas fueling infrastructure is a critical step in improving community air quality," says Weld County Commissioner Barbara Kirkmeyer, who spearheads the county's Smart Energy program. "CNG-fueled vehicles reduce smog-causing pollutants by more than 70 percent and emit 25 percent less CO2 than conventional fuels. Many of Weld County's school buses, fire engines and municipal vehicles run on natural gas. With seven stations in our county and more than 45 across the state, private and public fleet operators will now have improved access to this clean, abundant and local transportation fueling alternative."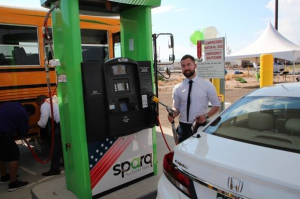 "This project is about connecting opportunities," says Wes Maurer, transportation program manager at the Colorado Energy Office and administrator of the state's $30 million alternative fuels program, ALT Fuels Colorado. "Today, Eaton joins an integrated network of stations across Colorado and, beyond that, is working to provide unhindered, clean transportation options for vehicles operating on Colorado-produced natural gas – a key objective for [the Colorado Energy Office]."
As Commissioner Kirkmeyer mentioned, this station is expected to give school districts better access to CNG to accelerate natural gas adoption for school bus fleets.
"In acquiring a CNG fleet, we expect that fuel-cost savings over the long term will be reinvested into our students and curriculum while advancing the Colorado Energy Office's goals of a statewide CNG network," says Eaton School District RE-2 School Board President Tim Croissant.
"The location of this northernmost station represents a crucial gateway to our activity in the DJ Basin," comments Noble Energy's Curtis Rueter, CNG/liquefied natural gas development manager. "Having access to CNG in Eaton will benefit our operations, which rely on natural gas, and allow our service providers to expand their CNG fleets. As part of our commitment to reducing the footprint of our operations, we are proud to operate a large Colorado fleet of 107 CNG vehicles, and almost half the produced water at our facilities is moved by trucks and vehicles fueled by natural gas."
Sparq states that the fueling site has the following features and options:
200 HP General Electric compressor;
50 HP Bauer compressor;
One high-flow, heavy-duty CNG nozzle;
Three light-duty CNG nozzles;
1 – 37' CNG storage (160 GGE Dispensable);
1" Stainless steel tubing from compressor to dispenser;
Atmos Energy capital improvement to maximize faster natural gas pressure and flow;
Class 8, heavy-duty accessible;
Accepts all major credit cards/fleet cards;
Convenience store amenities;
24/7 access; and
Discounted fuel volume purchase contracts available.
"We are excited to partner with Sparq to introduce our new CNG200 design," says Jeff Raynal, GE's CNG systems product general manager. "The compact, modular 'plug and play' configuration makes it easier to build and scale stations to keep pace with demand.
"Given the expected heavy utilization at this significant gap in the Weld County CNG network, our technology and supply approach will allow Sparq to scale up to support the area's growth projections," he adds. "Also, by reducing the financial risk for CNG station entrepreneurs, we see a significant opportunity to expand fueling networks across the region and the U.S. that will provide better access to this cleaner transportation fueling alternative."