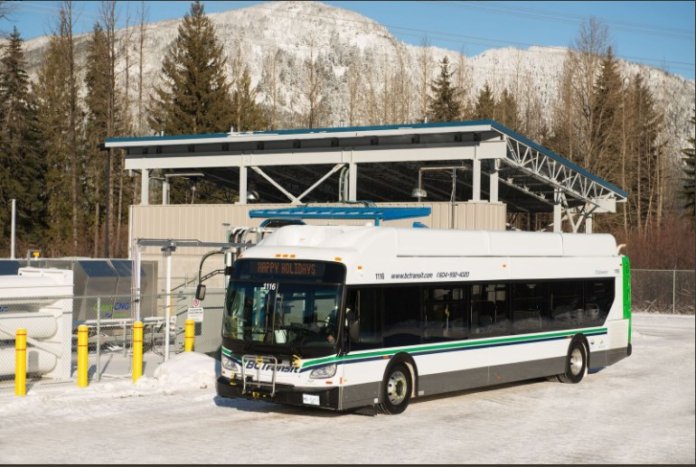 BC Transit, the provincial crown corporation responsible for coordinating the delivery of public transportation within British Columbia, recently announced it is rolling out 25 new compressed natural gas (CNG) buses as part of a full fleet replacement in the Whistler community.
According to BC Transit, the CNG buses from New Flyer Industries started to arrive in the community while the final commissioning work is completed on the CNG fueling and compressor station, and the buses will be put into service in the Whistler Transit System during the weeks ahead.
The CNG fueling station and new CNG buses are part of the almost C$160 million in federal and provincial funding for BC Transit projects.
"I'm pleased to see BC Transit kick-start the conversion of Whistler's bus fleet to compressed natural gas, a cleaner and more affordable alternative to diesel and gas," says British Columbia Minister of Transportation and Infrastructure Claire Trevena.
According to BC Transit, each of the XN40 Xcelsior New Flyer buses can carry 36 seated passengers and 45 standing passengers, and the purchase of the 25 new vehicles represents an investment of C$17 million in the Whistler Transit System.
"We are proud to provide Whistler with an environmentally sustainable, low-emission transit solution," says Wayne Joseph, president of the transit bus business at New Flyer. "As a leader in sustainability, Whistler has set the standard to support its growth through low-emission transit and to help the community to thrive as a four-season playground."
Clean Energy Fuels built the CNG fueling station in Whistler and will also maintain the new infrastructure. BC Transit says the project for the new compressor and fueling station, along with upgrades to the Whistler Transit Centre, was C$3.2 million.
"We're happy to partner with BC Transit on another fueling station here in Canada. As North America's leading provider of natural gas fueling stations, we pride ourselves in meeting our customers' design, construction and long-term maintenance needs," comments Mark Riley, regional vice president of sales at Clean Energy.
The natural gas for Whistler will be supplied by energy company FortisBC, which will also provide funding of C$539,500 to help offset the initial costs associated with the purchase of the new CNG buses and upgrades to the facility.
"FortisBC has the low-carbon fuel supply today to meet the demands of tomorrow and offers incentives to switch to compressed natural gas through our government's Greenhouse Gas Reduction Regulation. Since 2012, our incentive program has helped to convert over 700 vehicles to natural gas in B.C., displacing more than 67.5 million liters of diesel fuel and reducing GHG emissions by more than 74,000 tonnes," says Sarah Smith, FortisBC's director of natural gas for transportation.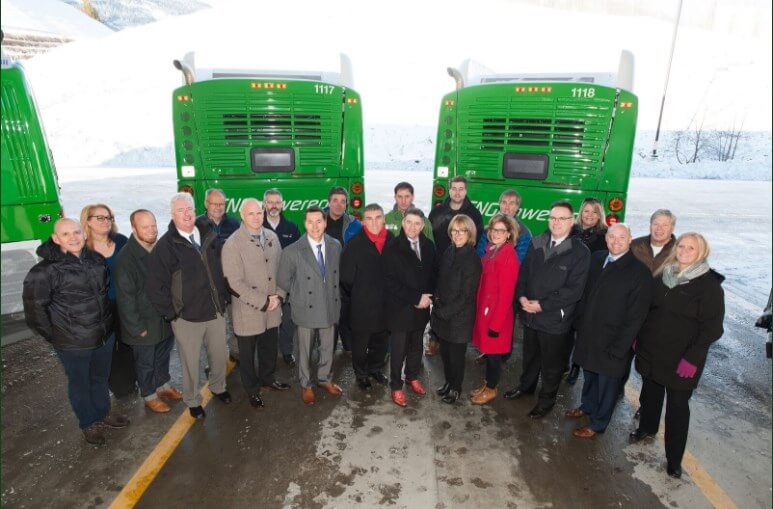 "Transit is a key priority for our community and across the province, and it is initiatives like CNG buses that continue to move us toward improved transit service and reductions in greenhouse gas emissions," says Resort Municipality of Whistler Mayor Nancy Wilhelm-Morden. "Thank you to the strong partnerships that came together to make this project happen for Whistler."
Manuel Achadinha, BC Transit's president and CEO, adds, "This project is a result of partnerships with all three levels of government and FortisBC to improve the effectiveness and efficiency of transit in Whistler. I look forward to seeing the CNG buses on the road connecting people and communities in Whistler."
Photos courtesy of Clean Energy's Twitter account