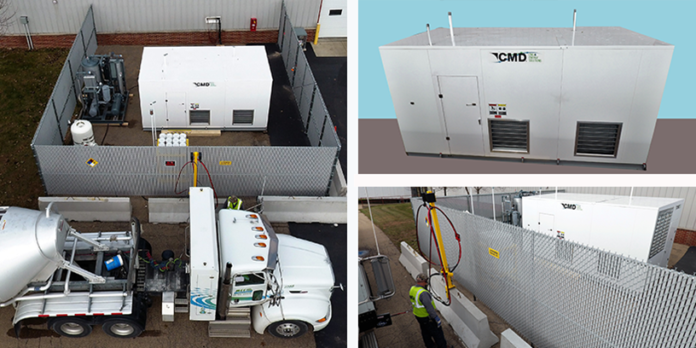 CMD CNG Energy Solutions, a division of Wisconsin-based CMD Corp., has announced a new, modular compressed natural gas (CNG) fueling system that is expandable and portable.
According to the company, its new CMD 100CGS compact fueling system offers flexible options for small fleets; those requiring fueling portability; and those new to, or considering a shift to, CNG.
"CMD's compact fueling system offers a high-performance, affordable entry into CNG," says Brad Schmoll, business development manager. "Our wrap-around service support and 24/7 station monitoring service are also available with the 100CGS."
The company claims the 100CGS can reduce fuel costs by helping drivers avoid waiting time at public stations, or wasting time and fuel when driving to find a station. Used as a time-fill station, the solution can fuel CNG vehicles at night, when rates may be lower in addition to reducing labor costs associated with fueling.
The company says the system expands up to four compressors for strong fuel delivery, yet in its smallest form, the solution utilizes a mere 104 sq. ft. CMD compact fueling stations can be customized for specific fueling requirements without sacrificing square footage and have an ergonomic, walk-through enclosure, the company adds.
According to the company, the 100CGS offers reliability backed by all the service and technology of larger CMD fuel systems, and the chart below shows how a user could efficiently fuel CNG vehicles with time-fill dispensing.