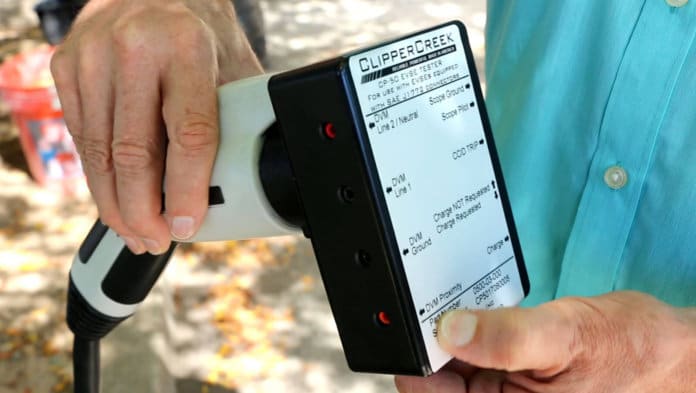 ClipperCreek Inc. recently released the CP-50, a tool for the installation and maintenance of electric vehicle supply equipment (EVSE).
According to the company, the $250 CP-50 is a compact, handheld testing tool designed for installers, technicians and facilities maintenance personnel. Designed for compatibility with all Level 1 and Level 2 SAE-J1772 EVSE, the CP-50 functions as a quick and simple diagnostic tool to troubleshoot vehicle charging issues.
The tool allows installers to test EVSE installations without a vehicle present. The CP-50 can function as a stand-alone device or can be used in combination with a digital volt meter and/or oscilloscope to verify operations and troubleshoot EVSE, says ClipperCreek.
"As the plug-in vehicle and charging infrastructure markets continue to grow, our customers have been seeking a simple and convenient way to verify operation and troubleshoot charging infrastructure. We are pleased to introduce the CP-50 at a great value to meet this market need," comments Jason France, president and founder of ClipperCreek.
Charles Douglass, ClipperCreek's customer support supervisor, adds, "The CP-50 is a great addition to the ClipperCreek product line. It delivers a variety of test capabilities in a compact, easy-to-carry form factor. The CP-50 is already being utilized in a variety of applications, including installation verification, vehicle compatibility diagnostics and preventative maintenance testing. We use it regularly in the lab to reproduce charging issues, and it is a valuable tool for any person responsible for installation or ongoing maintenance of EV charging infrastructure."