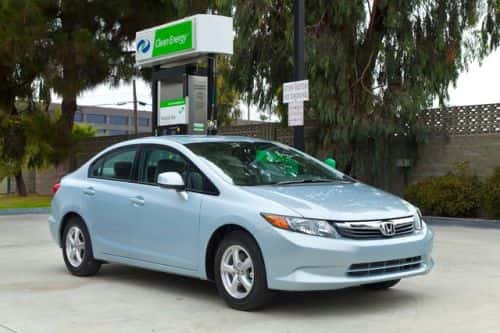 Just a quick flip through the Clean Cities 2013 Vehicle Buyer's Guide, released last week by the U.S. Department of Energy, makes it abundantly clear that there are many choices for OEM alternative fuel vehicles in the light-duty segment – as long as you are choosing among electric vehicles (EVs). But if your fleet is seeking propane autogas and natural gas, for instance, there are still relatively slim pickings available from the factory floor.
Among EVs, the competition is fierce, even if the overall market share is low compared to conventional gasoline- and diesel-powered vehicles. In the all-electric segment alone, many of the major makes are represented, including offerings from Ford, Chevy, Toyota, Honda and Nissan. A number of smaller-name companies, such as Tesla, Fiat, smart and CODA, are in the mix, too.
2013 is also a big year for plug-in EVs, with a pair of new Ford models – the Fusion Energi and C-MAX Energi – joining the Chevy Volt and Toyota Prius in the marketplace. Plus-in EVs eliminate the range anxiety associated with pure-battery EVs while offering fuel-economy ratings around 100 mpge, which a number of fleets are finding increasingly compelling in the face of high gasoline prices.
The pervasiveness of EVs goes even deeper when you include the range of traditional hybrids available for sale this year. For fleets, GM is possibly the most accommodating in the hybrid world, with the Chevy Silverado 1500 and GMC Sierra 1500 both available with hybrid powertrains tied to the 6.0-liter V8. City/highway fuel economy on these trucks is rated at 20/23 mpg, with an MSRP of $39,890.
Sedans such as the Toyota Camry and Honda Civic are also out there in hybrid variations, giving fleets the option of great fuel economy (43/49 mpg and 44/44 mpg, respectively) at a relatively modest entry point (e.g., an MSRP of $26,140 for the Camry).
Although pure OEM options for natural gas are few and far between, there is little doubt that what is available represents a sea change in the automotive industry: factory-built natural gas vehicles are here, and it seems likely that they are here to stay.
The Honda Civic remains the only OEM four-door passenger car in the U.S. available with a dedicated compressed natural gas (CNG) fuel system, and GM offers the Chevy Express and GMC Savana vans as dedicated CNG options. Also, the Vehicle Production Group (VPG) has its MV-1, which is particularly viable in light-duty taxi and paratransit fleet operations.
Natural gas also appears to be taking hold in the pickup truck market. Chrysler Group introduced the RAM 2500 in a bi-fuel CNG configuration this year, and the bi-fuel CNG Chevy Silverado and GMC Sierra 2500HD are also available.
For its part, Ford provides CNG prep packages for the F-250 and F-350 Super Duty pickups, as well as for E-150, E-250 and E-350 vans, and the Transit Connect. These are not exactly factory-equipped NGVs, though. Through Ford's Qualified Vehicle Modifier (QVM) program, fleets can order CNG as an option at the dealership, and retrofitters complete the job.
In 2013, propane autogas is also represented. Ford works with ROUSH CleanTech to give customers dedicated autogas systems for a wide range of applications, from the F-250 and F-350 to the Transit Connect. Icom North America, IMPCO and Alliance AutoGas offer bi-fuel propane/gasoline systems for Ford vehicles.
Chrysler currently does not offer propane models, but GM has a dedicated propane option for its Chevrolet Express and GMC Savana 3500 and 4500 cutaway vans with the 6.0-liter V-8. Also, Icom and IMPCO bring fleets converted GM bi-fuel propane/gasoline platforms.
Take a look at all the alt-fuel options for model-year 2013 HERE.