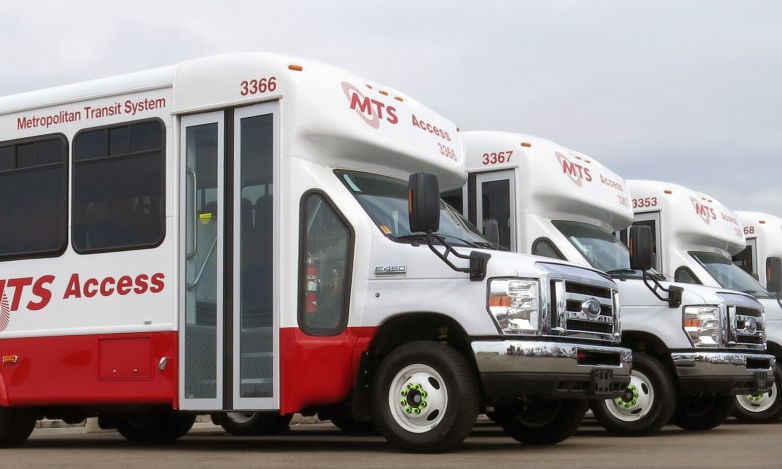 Pushing full steam ahead, the San Diego Metropolitan Transit System (MTS) is set on a path to reach a 100% alternative fuel fixed-route fleet with compressed natural gas (CNG) and propane vehicle technology within the next five years.
As of last month, the San Diego MTS had rolled out a fleet of 77 buses powered by propane autogas – 46 paratransit buses built on the Ford E-450 chassis and 31 minibuses on the Ford F-550 chassis – in an effort to reduce emissions and save on operating costs.
Looking ahead, it seems those savings are set to really add up. Paul Jablonski, CEO of the San Diego MTS, says the agency will save approximately $5.8 million over the first five- to seven-year lifecycle of the vehicles.
Stationed at the agency's Copley Park Division, which operates paratransit and minibus vehicles on lower-volume routes, the new vehicles feature Ford 6.8 L V10 engines with ROUSH CleanTech propane autogas fuel systems.
Now, with this new purchase, 35% of the Copley fleet is operating on alternative fuels.
ROUSH CleanTech's Todd Mouw applauds the agency's commitment to alternative fuel technology: "The utilization of propane in the paratransit and minibus fleet is a perfect fit, as our solution meets the range requirements of the duty cycle, while using a lower-cost, cleaner and domestic energy source. It is a win for the agency, as well as the citizens of San Diego."
Apparently, the move is a "win" all around. According to Jablonski, the propane vehicles have been "received very well by management, operations and maintenance."
He says, "MTS has been able to seamlessly integrate the propane fleet into operations. The drivers are glad to be operating new vehicles, passengers have commented on the quieter ride, and there have been no issues with standard maintenance practices."
Cost-wise, switching to propane made sense for the MTS. Historically, propane autogas costs 40% less than gasoline and up to 50% less than diesel. For this rollout, the MTS established a one-year agreement with Ferrellgas LP to provide on-site and off-site fueling options for $1.1525 per gallon and $1.460 per gallon, respectively. In both instances, Ferrellgas brings mobile fueling units to wherever they are needed.
In addition to good economics, the propane vehicle rollout also made good environmental sense. Over the fleet's lifetime, these 77 vehicles will reduce greenhouse-gas emissions by more than 13 million pounds. The agency says it aims to help the state reach its emissions reduction goals, which include a 40% reduction from 1990 levels by 2030.
"MTS has made great strides to reduce its carbon footprint in San Diego over the past decade. Propane-powered buses are the latest example," Jablonski says.
Propane may be the latest example, but the San Diego agency has been using other alternative fuels – namely, CNG – for years.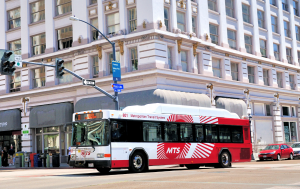 The MTS has invested more than $60 million in CNG technology, buses and refueling infrastructure for its larger, fixed-route buses. Reporting that all of its 40-foot standard Gillig buses and 60-foot articulated New Flyer buses already run on CNG, the agency boasts more than 500 fixed-route CNG buses in its service to date.
The Gillig buses feature 20-year CNG tanks by Worthington-SCI in rooftop assemblies by Agility Fuel Systems, while the New Flyer buses have 20-year all-composite Type IV tanks from Lincoln Composites.
"MTS was a leader in California to convert its fleet to CNG," Jablonski says. "We began this effort in 1994, so we have already made a significant contribution to the air quality in our region."
What's more, the MTS says it's the first transit agency in California to use biogas. The MTS negotiated an agreement with BP to purchase the renewable gas – a move that Jablonski says will save the agency approximately $100,000 annually and reduce the bus fleet's carbon intensity score to 13.4, which is much lower than other fuels, even electricity.
All that's left now is to convert the 24 remaining over-the-road coaches that still run on diesel. The agency says these last few vehicles will be retired and replaced within the next three to five years.
The agency has the necessary refueling infrastructure handled, operating CNG stations at all four of its fixed-route operating divisions.
"CNG makes sense in a larger application such as fixed-route buses, where the bus manufacturer can package enough storage capacity to meet the route requirements," Mouw comments. "Fixed-route buses are kept in service longer and accumulate more hours and miles, allowing significant operational payback over the life of the bus. Couple this with significantly reduced emissions compared to their diesel counterparts, and that's why CNG makes sense in this application."
Rounding out the alt-fuel fleet, the transit agency also operates 12 gasoline-electric hybrid buses.
The San Diego MTS says it will continue pushing for clean and green vehicle development, adding that it is currently part of a pilot program to test near-zero-emission CNG engines.
SAN DIEGO MTS BUS AT A GLANCE
Overall Motorized Fleet
Approximately 800 buses overall
Fixed-route buses: 624
Copley Park Division: 215 paratransit buses and minibuses
Clean Fleet
Propane autogas buses: 77
CNG buses: more than 500
Gasoline/Electric hybrids: 12
Clean Fleet Infrastructure
CNG refueling stations at all four operating divisions
Fuel truck for propane refueling
Possible on-site bulk tank for propane