As is generally well understood, the ideal fleet for a conversion to natural gas is one that abounds in numbers, travels significant miles, uses a vehicle platform for which natural gas options are available, and can build or readily gain access to natural gas refueling.
City Furniture was just such an ideal candidate. The Florida-based firm is one of the largest furniture retailers in the state, with 28 brick-and-mortar locations and a central warehouse in Tamarac. It manages a fleet of about 90 vehicles – mostly medium-duty delivery trucks – and makes approximately 700 deliveries to customers each working day.
Andrew Koenig, who works in the company's operations department, began his fact-finding mission about five years ago, prompted largely by a family friend who closely followed technology trends and was bullish on compressed natural gas.
'He was the first to say, 'You really need to start looking at it," Koenig tells NGT News.
The discovery process included reaching out to local officials and the natural gas utility to get a handle on regulations governing refueling infrastructure, as well as connecting with Clean Cities representatives. Koenig also dove deep into natural gas vehicle technology itself, assessing the product landscape to see what vehicle platforms were available and contacting truck OEMs and upfitters about the options.
'No strategy fits every operator,' he remarks. 'We had to find the right strategy to fit our business model.'
City Furniture first opted for a dedicated CNG configuration of the medium-duty Isuzu NPR, upfitted by IMPCO. The company's lead mechanic did his due diligence on the vehicle and determined that a natural gas system would not adversely affect everyday truck operations, in terms of payload, power and torque.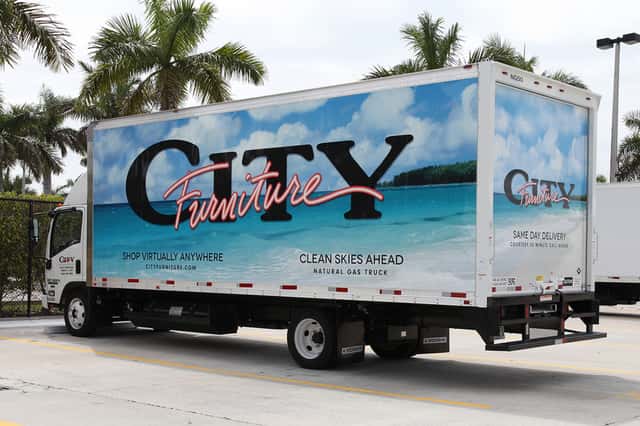 In 2012, five CNG-powered NPRs joined the fleet. The trucks performed as expected, and delivery drivers preferred the vehicles, Koenig says. City Furniture then decided to go all-in on CNG.
'The ROI was just too clear,' according to Koenig.
Since that time, the company has deployed 53 additional NGVs: bi-fuel gasoline/CNG Isuzu NPRs, also with IMPCO systems.
By the end of next year, City Furniture anticipates that all of its trucks – currently 87 in total – will be running on natural gas.
Role of refueling capacity
A significant factor that has helped make the initiative a success is that the company was able to install its own CNG refueling infrastructure, resulting in a CNG fuel cost of about $1.50/GGE.
TruStar Energy built City Furniture's station: a time-fill facility featuring 50 fueling posts, two 150 hp compressors from Ariel and a gas dryer from PSB Industries. City Furniture owns the private station and performs the majority of the maintenance in-house.
The compressors currently produce about 5 GGE per minute, but the station was designed to accommodate a third compressor and an expansion of up to 90 time-fill hoses.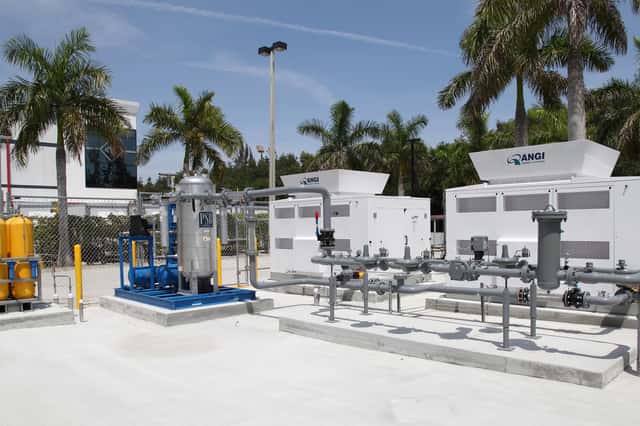 As it turns out, City Furniture is going to need that expansion sooner rather than later. Koenig notes that the station's capacity is just about tapped – which is fine for the status quo.
'But it's not going to be enough,' he says.
The company has aggressive NGV goals. On top of the 30 additional Isuzu NPRs that City Furniture wants to roll out by the end of 2015, the company will be building a second warehouse facility, scheduled to come online in Orlando in 2016. When that facility opens, City Furniture will also be deploying four or five CNG-powered Class 8 tractors in order to streamline its logistics and delivery operations.
Right now, the municipal utility in Sunrise, Fla. – which supplies gas to the company's station in Tamarac – is proceeding with a major upgrade that will bring a commercial-scale gas distribution line onto City Furniture's property. In turn, the sky will be the limit in terms of the station's CNG capacity, beginning with a fast-fill setup that will offer the company greater flexibility as the NGV fleet grows.
City Furniture AT-A-GLANCE
Overall Motorized Fleet
Approximately 90 vehicles – largely medium-duty delivery trucks
Clean Fleet
Natural gas vehicles: 53 bi-fuel CNG Isuzu NPR medium-duty trucks; five dedicated CNG Isuzu NPRs
Clean Fleet Infrastructure
Private time-fill CNG refueling facility with 50 fueling posts