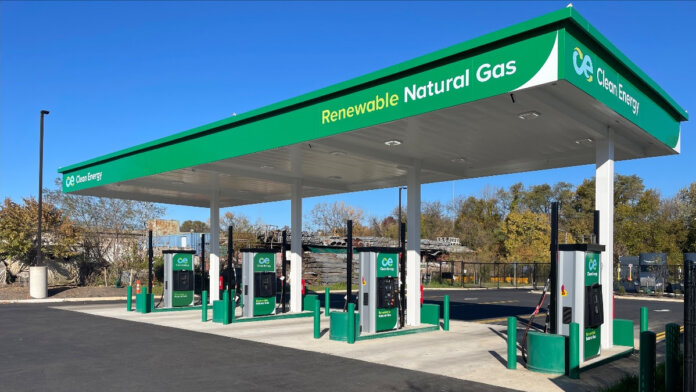 Clean Energy Fuels Corp., a provider of clean fuel for the transportation market, has opened a new renewable natural gas (RNG) station in Baltimore.
The new station is strategically located near the Pulaski Industrial Area and provides heavy-duty truck fleets access to a low-carbon, sustainable fuel in the busy East Coast trucking corridor.
The station opening comes at a time when RNG is gaining momentum in the heavy-duty vehicle space, with the introduction of the Cummins X15N natural gas engine coming next year. The new 15-liter engine is currently being tested by a handful of fleets, including Walmart, Werner, Knight Swift and UPS. Early reaction to the X15N has been positive at a time when the heavy-duty truck market continues to struggle to find affordable and reliable alternatives to decarbonize their fleets.
"Large fleets fueling with RNG have the ability to realize immediate and significant carbon reduction, especially in the heavy-duty truck sector," says Chad Lindholm, senior vice president of Clean Energy. "The opening of our station in Maryland and others around the country demonstrates the demand for an affordable, clean fuel that reduces greenhouse gas emissions and is available today."
The new station, located at 6820 Quad Ave. in Baltimore, sits on almost 20 acres and includes four fast-fill dispensers and private time-fill hoses for up to 156 trucks.
Clean Energy currently has a network of 590 fueling stations around North America and is steadily expanding that number with stations purposely built and strategically located for heavy-duty truck fleets.
Clean Energy is also making substantial investments in the production of RNG at dairy farms. Agriculture accounts for nearly 10% of U.S. greenhouse gas (GHG) emissions, and the transportation sector accounts for another 28%, according to the U.S. Environmental Protection Agency. Capturing methane from farm waste lowers these emissions.