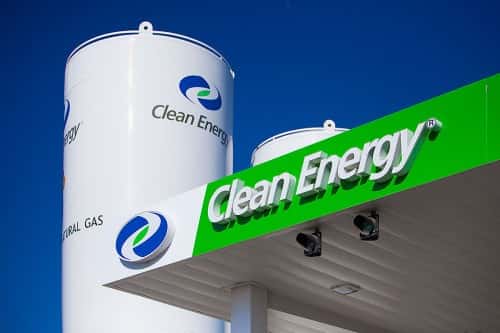 In its latest announcement, Clean Energy Fuels Corp. says it has been awarded two new fueling station construction projects and that its facility modification services division is growing, with multiple projects under way, including three for Cummins Inc.'s sales and service business.
Burrtec Waste Industries, one of the largest private solid-waste companies in California, has contracted with Clean Energy to build a compressed natural gas (CNG) fueling station in Coachella, Calif. The station is expected to fuel 50 CNG refuse trucks and dispense approximately 520,000 gasoline gallon equivalents (GGEs) per year.
Burrtec awarded Clean Energy a 10-year operations and maintenance contract for the station.
South Jersey Gas and Riggins Inc. have also contracted with Clean Energy to build a public CNG station in Franklin Township, N.J., utilizing the company's CleanCNG compressors. As reported, this will mark the 100th CleanCNG non-lubricated compressor with ultra-low vibration and noise engineering to be delivered since announcing the start of production in June last year.
Clean Energy also signed a 10-year operations and maintenance agreement for the station, which will be the third South Jersey Gas station that Clean Energy has been charged with operations and maintenance services for and constructed.
"While we continue to add transit, trucking and refuse fleets to our list of customers fueling at our network of stations all across North America, we also continue to build complete stations for our customers, and we expect to complete 62 of these types of projects this year," says Andrew J. Littlefair, president and CEO of Clean Energy.
In addition to facilities modifications work for Cummins at its locations in Hodgkins, Ill.; Bristol, Pa.; and Bronx, N.Y., Clean Energy has been awarded a contract with the City of San Fernando, Calif., to upgrade its public CNG station. The $1.3 million project is needed due to the increased traffic at the station, as well as to incorporate newer technologies in compression equipment.
"We are happy that more and more companies are turning to natural gas," says Robert C. Gonzales, mayor of San Fernando. "In addition to fleets such as Caltrans and Republic who use our station daily, we've noticed an increase in other fleets using natural gas, as well. It's a win-win; they get cheaper, cleaner fuel, and we get cleaner air for our city."
What's more, Clean Energy announced additional agreements in the trucking, transit and refuse sectors.
Bimbo Bakeries USA, the largest baker in the U.S., has signed a fueling agreement with Clean Energy for an additional 19 CNG trucks based out of its Montebello, Calif., location. The company says the vehicles will fuel at Clean Energy's public fueling stations located in both Commerce and Whittier, Calif.
Clean Energy says it has added Frank C. Alegre Trucking to its list of fueling customers by signing a multiyear fueling agreement. Frank C. Alegre Trucking purchased five liquefied natural gas (LNG) trucks for its bulk food hauling operations throughout Southern California and will fuel at Clean Energy stations. Notably, these trucks are the first natural gas vehicles in Alegre's fleet.
In transit, the Orange County Transportation Authority has signed a fueling contract with Clean Energy for 1.5 million GGEs of LNG for its fleet of 73 buses. The company will use Clean Energy's Redeem brand of renewable natural gas, rated up to 70% cleaner than diesel. The agency is transitioning its LNG fleet to CNG and will continue to fuel its fleet at Clean Energy's Anaheim and Garden Grove locations during the transition, which is expected to be complete in 2017.
Republic Services, one of the nation's largest refuse companies, opened a private fueling station in Daly City, Calif., in October to support its contract for refuse services with the city. The time-fill station was built by Clean Energy to support 21 CNG refuse vehicles and is estimated to dispense approximately 215,000 GGEs per year.
In addition to these projects, Clean Energy Fuels says it secured over $400,000 in grant funding for Clean Energy customers Amato Industries, Bimbo Bakeries and Testa Produce. The funds, provided by the states of Pennsylvania, Illinois and California, enable companies to purchase natural gas vehicles, including the purchase of 18 heavy-duty CNG vehicles by Bimbo.