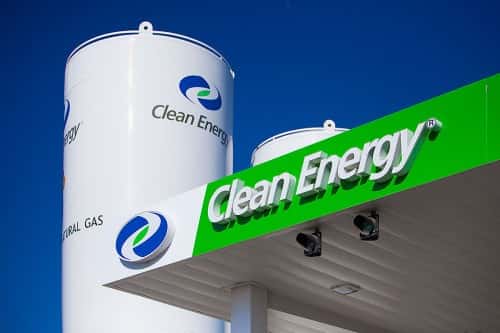 In addition to several other natural gas vehicle (NGV) announcements, Clean Energy Fuels Corp. says it has been selected as a preferred supplier to provide natural gas upgrades to facilities in Cummins Inc.'s distribution business unit, enabling Clean Energy to assist Cummins in supporting NGV implementations across North America.
According to Clean Energy, the second-largest natural gas producer in the U.S., its facility modification services (FMS) provides natural gas facility assessments and design/build services for the natural gas industry, assisting customers in North America by working with public and private agencies.
The company states that its FMS is also installing its proprietary NGV Easy Bay for a Ryder System Inc. facility in Jeffersonville, Ind. The NGV Easy Bay, the first code-compliant industrial fabric barrier system, according to the company, is scalable and can either accommodate a single bay isolation project or be used to divide a large building into multiple bays. It is retractable for easy storage and can even be relocated to another facility, the company adds.
Clean Energy states that the FMS team is also providing design and build services for three McNeilus Truck & Manufacturing facilities and anticipates beginning construction in early 2017.
In addition to the expanding FMS business, Clean Energy announced several agreements in the trucking, transit and refuse sectors, including those that follow.
Trucking
Midway Ford Truck Center Inc. and Clean Energy held a ceremony on Aug. 9 to open a compressed natural gas (CNG) station in Kansas City, Mo., adjacent to vehicle upfitter businesses that will provide CNG conversions and vehicle equipment for Ford Commercial Trucks equipped with CNG-prepped gasoline engines.
"For many of our commercial fleet customers, sustainability and alternative fuels has become a key component of their business plans. Having options like CNG provides them with choices in how they may choose to implement those plans," says John Ruppert, director of commercial vehicle sales and marketing for Ford Motor Co.
Bronx, N.Y.-based Baldor Specialty Foods, one of the largest distributors of fresh produce and specialty foods in the Northeast, has begun making the transition to natural gas for its fleet after testing a CNG truck provided by Clean Energy. Baldor will be fueling at Clean Energy's National Grid station in Everett, Mass.
Transit
The City of Santa Clarita, Calif., has extended a four-year agreement with Clean Energy for the operation and maintenance (O&M) of the city's CNG fueling stations, representing approximately 1.3 million gasoline gallon equivalents (GGEs) per year. The city has continued to expand its CNG fleet of more than 70 vehicles within the transit department and has also expanded its CNG fleet in the pool and public works departments.
Clean Energy has been awarded a construction agreement with Culver City, Calif., to replace and install new CNG equipment at the city's transportation department. This project will enhance Culver City's existing fueling facilities and will support the continued success of its expanding CNG program of more than 100 CNG vehicles.
In addition, Clean Energy has been commissioned to construct and maintain a CNG station for the Kent School District in Kent, Wash. The station is expected to fuel 20 buses and distribute approximately 40,000 GGEs per year for the fourth-largest school district in the state.
Valley Metro, the regional public transportation agency for greater Phoenix, has extended a CNG station O&M agreement with Clean Energy for an additional five years. Such an agreement covers Valley Metro's Mesa facility and represents approximately 1.4 million GGEs per year. Clean Energy also operates and maintains Valley Metro's Tempe natural gas fueling facility.
Desert Sands Unified School District has awarded Clean Energy a three-year maintenance contract for its station in La Quinta, Calif. The station will support the district's 40 CNG buses, which represent as much as 90,000 GGEs per year.
Refuse
Homewood Disposal, a refuse company servicing over 12,500 commercial customers throughout Indiana and Illinois, recently opened its new CNG station in Homewood, Ill. Clean Energy built the station, which includes 40 time-fill posts, and will provide O&M services.
The City of Scottsdale, Ariz., has renewed its O&M contract with Clean Energy for an additional year. The station, which supports the city's natural gas refuse fleet, dispenses over 300,000 GGEs per year.
Lastly, Clean Energy built a new CNG station in Wilsonville, Ore., for Republic Services, one of the nation's largest refuse companies. Clean Energy will operate and maintain this site, as well, having opened on June 10.
In addition to these projects and contracts, Clean Energy Fuels announced it obtained $19.5 million in grant funding during the second quarter of this year. The grants, awarded by multiple states, provide funding to Clean Energy and its customers for 369 NGVs and a station construction project. The award includes a $1.4 million grant by the Texas Commission on Environmental Quality for Ruan Transportation Management Systems to purchase 27 CNG Class 8 trucks.