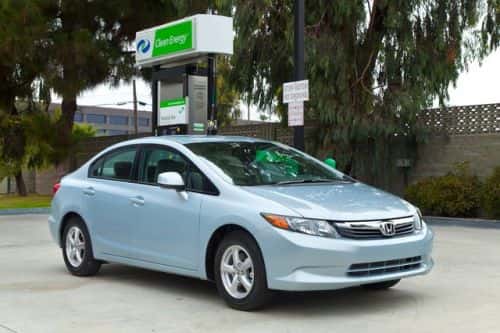 This week, notable finance industry publication Forbes ran a piece titled 'Sales Of Honda's Natural Gas Civic Plummet,' sparking some contemplation about how natural gas vehicles are faring in the consumer market.
The contributor leans on a single data point – that Honda sold 751 Civic NGVs in 2014, compared to 2,198 in 2013 – to suggest that the average car buyer wants nothing to do with natural gas vehicles.
'The numbers are ominous for the GX, as well as for proponents of the idea of trying to bring natural gas cars to consumers,' the article reads.
Honda did not release the 2014 sales figures, and the author acknowledges that he was unable to confirm numbers with the company. Rather, the data came from an analyst at Navigant Research, which recently released a report about the global NGV market.
But let's assume that the number – 751 – is spot-on. What does that mean?
Well, it definitely means that the Civic Natural Gas is struggling to gain market share in North America, whether among fleet buyers or the general public. A couple years ago, NGT News covered the debut of the 2013 model. At that time, Civic Natural Gas sales for the previous model year totaled about 4,000 units, of which 1,500 were sold to fleet customers.
To be sure, a drop from 4,000 to 750 is immense. That fact is impossible to ignore.
However, is a slide in sales volume for the Civic NGV indicative of an overall rejection of natural gas vehicles among consumers, as the author implies?
In the interest of fairness, the author does focus on 'natural gas cars,' presumably limiting his scope to light-duty passenger sedans and the like. In that case, it's also a fact that the Civic Natural Gas has been the only game in town for many years. Until GM's announcement of the 2015 bi-fuel compressed natural gas Chevy Impala, the Civic Natural Gas was the standalone OEM offering in the passenger-vehicle class.
But what about light-duty pickup trucks, or even aftermarket passenger NGVs?
Therein lies the biggest problem with the Forbes piece. The base of consumer buyers in North America surely includes truck drivers – your Ford F-150s, Ram 2500s and GM Silverados and Sierras. Each of these models is available through OEM channels as factory-built NGVs or gaseous-prepped vehicles. And there are many other truck models that can be converted to CNG by aftermarket companies, including IMPCO, Landi Renzo, Westport, AGA Systems and several others.
The overall availability of NGVs for consumers expanded widely in the last couple years – within the span of time that Civic Natural Gas sales dropped. The Forbes contributor neglected that fact entirely, although it is completely reasonable to assume that these other NGV options cut into Civic Natural Gas sales.
The Forbes article is available here. Take a look, and you'll see the assumptions and the holes in those assumptions. And although NGT News would love to undertake a comprehensive survey of consumer NGV sales, doing so is not necessary in order to contend that the article is misleading.
No one is saying that NGVs emerged as the unassailable next-big-thing in the consumer auto world in 2014. There is a lot of work to be done to get to that point, if it is ever to be reached at all. But 2014 also didn't bear the death knell for NGVs.