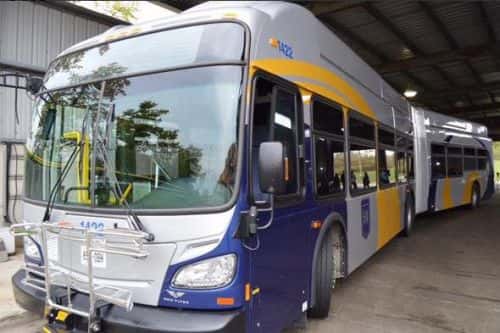 The City of Hamilton, Ontario, and utility Union Gas marked the completion of a compressed natural gas (CNG) station at the Mountain Transit Center that will fuel the city's new fleet of CNG buses.
Years ago, the city started deploying CNG buses, but high project costs, concerns about vehicle reliability and a general wariness about the alternative fuel largely sidelined the city's program in 2004. However, the city says its council last year approved the business case for transitioning the conventional bus fleet back to CNG due to the volatile costs of diesel fuel. According to the city, natural gas prices are lower today than they were 10 years ago.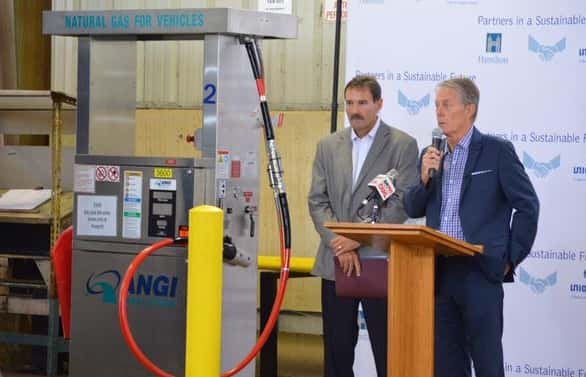 The new station has the capacity to allow the fleet of CNG buses to grow from the current complement of 35 to a total of 120 vehicles over the next six years. The city also projects the cost savings of this initiative to be about C$40 million over the next 20 years.
"This rewarding partnership with Union Gas has tremendous economic and environmental benefits to our community," says Hamilton Mayor Fred Eisenberger. "Not only will the city save millions of dollars over the next 20 years by converting part of our transit fleet to CNG, [but] we will also move closer to our corporate target of reducing greenhouse gas emissions by 80 percent by 2050."Â
Union Gas built the CNG facility and will also own and maintain it. Steve Baker, president of Union Gas, comments, "Hamilton is a very energy-conscious community."
Hamilton says it is Ontario's first municipality in over a decade to recommit to CNG buses. The first 18 60-foot articulated CNG buses arrived this summer, thanks to funding from the federal Gas Tax Fund. More buses, which will include over 20 40-foot CNG Nova buses, are expected in the first part of 2016. The city plans to replace about 18 buses per year with CNG until 2020.
Photos courtesy of the City of Hamilton