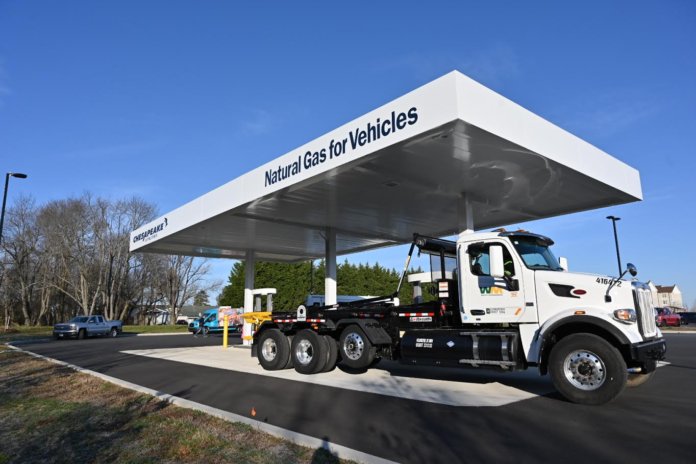 This week, Chesapeake Utilities, a natural gas subsidiary of Chesapeake Utilities Corp., cut the ribbon on a new compressed natural gas (CNG) fueling station in Dover, Del.
Located at 500 Energy Ln., the public-access facility was built as a fast-fill station with a maximum capacity of 2200 scfm (standard cubic feet per minute) or 16 DGE (diesel gallon equivalents) per minute. The daily maximum capacity is 23,000 DGE per day.
Situated off Exit 95 on Route 1, the station is designed with the capacity to fill CNG tube trailers – supporting virtual pipelines and emergency needs on the Delmarva Peninsula, explains Chesapeake Utilities.
Chesapeake Utilities was awarded a $500,000 grant through the Delaware Clean Cities Coalition for the project's construction, which was completed in 2018 and totaled $1.8 million.
The ribbon-cutting was part of a summit held by Chesapeake Utilities and Sharp Energy, another subsidiary of Chesapeake Utilities Corp., to promote the use of alternative fuels in commercial freight vehicles and fleets. The event included presentations from federal and state public officials, who highlighted successful fleet transitions in Delaware, obstacles to fleet conversions and alternative fuel corridors. Available grant programs for converting vehicles were also reviewed. In addition, attendees were able to view CNG and propane autogas vehicles and tour the new station at Energy Ln.