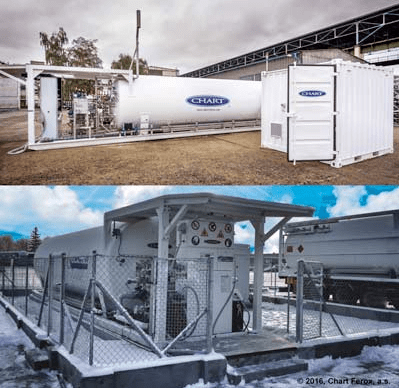 Chart Industries, a cryogenic equipment manufacturer, has added a liquefied compressed natural gas (LCNG) fueling option to its skid-mounted LNG fueling station, making it now suitable for both LNG- and CNG-fueled vehicles.
The company asserts that because the station is skid mounted, installation and commissioning are reduced to a few days; civil works are simplified, with significant cost savings; and the complete station can be easily relocated to another location, if required.
According to Chart Industries, this solution is ideal for vehicle fleet bases, remote locations and small ports, as well as being an excellent temporary fueling solution, either until a permanent station is built, or as a stop-gap until demand dictates a requirement for a larger, permanent station.
This highly compact system features technology including fully automated operation, remote control access and submerged pump for a fast refueling action. The station also incorporates the Flowcom 3000 dispenser, designed and built by Chart's German-based subsidiary Flow Instruments GmbH, for what Chart says is highly accurate metering and measuring.
Initially launched 3 years ago, the skid-mounted LNG fueling station is in service in a number of European locations and current backlog includes an order from Prima LNG for two further stations, which will be installed in the U.K. for Calor Gas Ltd.