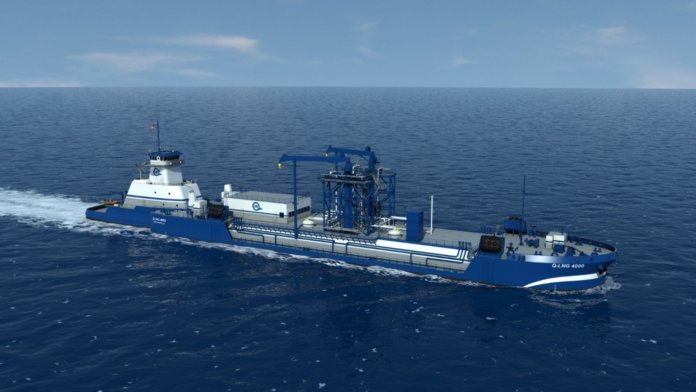 Shell has already locked in a major customer for its planned liquefied natural gas (LNG) bunker barge in the U.S.
Carnival Cruise Line, a unit of Carnival Corp., says it has signed an agreement with Shell to be its supplier of marine LNG to power North America's first fully LNG-powered cruise ships. Under this framework agreement, Shell will supply Carnival Cruise Line with fuel for its two new LNG-powered ships expected to launch in 2020 and 2022 and to be homeported in North America.
As part of the agreement, Carnival says the two ships, built with a next-generation "green cruising" ship design, will be fueled through Shell's LNG bunker barge – a project announced earlier this week as part of Shell's strategic plan to develop a global LNG bunkering network.
As previously announced, Shell has finalized a long-term charter agreement with Q-LNG Transport LLC for an LNG bunker barge with the capacity to carry 4,000 cubic meters of LNG fuel. As the first of its kind to be based in the U.S., the ocean-going LNG bunker barge will supply LNG to marine customers along the southern East Coast of the U.S. and support growing cruise line demand for LNG marine fuel.
"This investment in LNG as a marine fuel for the U.S. will provide the shipping industry with a fuel that helps meet tougher emissions regulations from 2020," says Maarten Wetselaar, integrated gas and new energies director at Shell. "Our commitment in the Americas builds on Shell's existing LNG bunkering activities in Singapore and Europe, as well as recently announced plans in the Middle East and gives us the ability to deliver LNG as a marine fuel to customers around the world."
The LNG bunker barge will be owned and built by Q-LNG Transport LLC and operated by Harvey Gulf International Marine LLC. With its pioneering design and delivery capabilities, the LNG bunker barge will be efficient and maneuverable and feature a transfer system enabling it to load LNG from big or small terminals and bunker a variety of customers, according to Shell.
Speaking about the supply deal with Carnival, Tahir Faruqui, president of Shell NA LNG LLC, says, "This agreement is a significant stepping stone in our relationship with Carnival Corp. building upon our previous LNG marine fuel supply agreements in Europe. It also marks a milestone as we continue to establish the marine LNG fuel market in the U.S. as a credible part of the global marine fuel mix."
The two new Carnival Cruise Line vessels will be fully powered by LNG both while in port and at sea – an industry first and an environmental breakthrough that will improve air quality with cleaner emissions and produce the most efficient ships in company history, according to Carnival. The 180,000-ton ships will also be the largest ships in Carnival Cruise Line's fleet with an approximate passenger capacity of 5,200 based on double occupancy.
"Carnival Cruise Line is strongly committed to leading the way in the implementation of technology innovations to help protect the environment and support our aggressive sustainability goals," says Christine Duffy, president of Carnival Cruise Line. "
Tom Strang, senior vice president of maritime affairs for Carnival Corp., adds, "We are proud to be on the forefront of advancing LNG as a fuel source for the cruise industry. One of the keys to establishing LNG as a standard for powering cruise ships is building out an extensive, safe and reliable infrastructure across the globe for this clean-burning fossil fuel. We are looking forward to working closely with Shell as they help to bring LNG to North America in what we hope will be the first step in building a strong foundation for the future of LNG fuel supply for cruise ships in the region."
The supply agreement builds on the partnership established between Carnival Corp.'s AIDA Cruises brand and Shell in April 2016 to supply its AIDAprima ship with LNG to power the vessel while docked.
The partnership was extended in fall 2016 when Carnival Corp. signed an agreement with Shell to supply LNG for the first of its next-generation LNG ships from its European AIDA Cruises and Costa Cruises brands. According to Carnival, these two vessels will be the world's first fully LNG-powered cruise ships when they enter service in 2018 and 2019. Additionally, the agreement furthers the realization of Carnival Corp.'s LNG efforts that began in 2015 with AIDAsol becoming the first cruise ship in the world to be supplied with power by an LNG hybrid barge, which also saw major benefits while in port.
In total, Carnival Corp. says it has agreements in place with leading German and Finnish shipbuilders Meyer Werft and Meyer Turku to build seven LNG-powered cruise ships across four of its 10 global cruise brands with delivery dates between 2018 and 2022.
As part of the framework agreement, Carnival Corp. and Shell have the opportunity to partner together on supplying marine LNG fuel to future LNG-powered vessels or additional itineraries. The overarching agreement enables each Carnival Corp. brand to negotiate individual LNG supply contracts with Shell as new LNG-powered cruise ships begin to launch in coming years.
Rendering of the LNG bunker barge courtesy of Shell