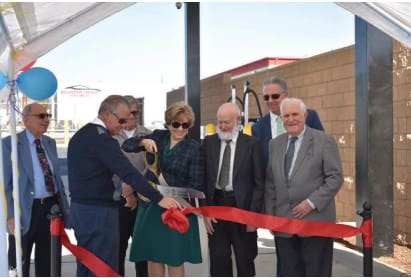 The Fullerton Joint Union High School District (FJUHSD) in California recently hosted a ribbon-cutting ceremony for the district's new compressed natural gas (CNG) fueling facility. The ceremony was held at the District Transportation Center located at 1021 S. Leslie St., La Habra.
Currently, 19 district buses run on CNG and are fueled at the FJUHSD bus yard through time-fill and fast-fill dispensers. The majority of the buses were acquired through the South Coast Air Quality Management District's (SCAQMD) incentive program under which clean-burning CNG buses are offered as replacements for older buses. FJUHSD says it expects to replace most of its diesel- and gasoline-burning bus fleet with CNG vehicles in the coming years.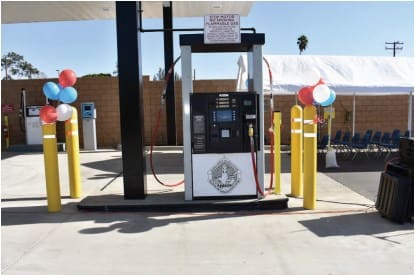 Grants from SCAQMD, the Mobile Source Air Pollution Reduction Review Committee (MSRC), and the California Energy Commission (CEC) helped fund the necessary $3.2 million upgrades to the CNG infrastructure. These upgrades also include a public, fast-fill CNG station where commuters, businesses, municipalities, and local educational agencies can fill vehicles.
Consumers are able to utilize credit, debit, or fleet cards to fuel vehicles 24 hours per day, seven days per week. The school district says it expects to use the additional revenue from the public CNG station to fund further vehicle replacement.
Photos courtesy of FJUHSD