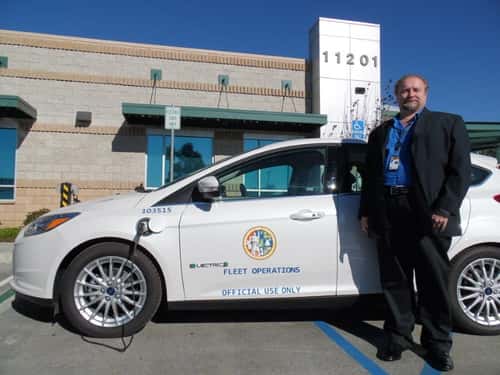 The County of Ventura, Calif., says it is reducing greenhouse-gas emissions from its fleet of vehicles, and lowering costs, by participating in a national sustainable fleet accreditation program.
The National Association of Fleet Administrators (NAFA) runs the NAFA Sustainable Fleet Accreditation Program that is designed to analyze and certify actions taken by fleets to positively affect the environment by improving air quality.
Fleet Services, a division of the General Services Agency, is overseeing the program for the county. It is proactively taking steps to monitor reductions in emissions and fuel usage while establishing benchmarks to track efficiency improvements.
"Recognition by NAFA for our sustainability efforts ensures we are headed in the right direction," says Peter Bednar, Ventura county fleet manager. "We are committed to ongoing improvements in our fleet, such as the addition of more environmentally-friendly vehicles like the PHEV Volt from Chevrolet and the EV Ford Focus. Future improvements will involve telematics tracking to reduce fleet mileage and fuel consumption."
Maintaining a sustainable fleet is a comprehensive process that includes training drivers to be more selective in their routes and drive at optimum speeds. Carefully scheduled maintenance ensures the county's vehicles are performing at peak efficiency, and new procedures, such as an anti-idling policy, will help to reduce emissions and fuel usage. Ventura is adding eleven Chevy Volt plug-in hybrids to its current fleet comprising mostly Toyota Prius hybrids and Ford Focus Electric cars.
"NAFA's Sustainable Fleet Accreditation Program brings clarity, definition and recognition to what sustainability means for our fleet," adds Bednar. "The program is now the national standard for recognizing concrete improvements in air quality and their third-party oversight of what we're doing here will keep us a leader in improving our environment locally."