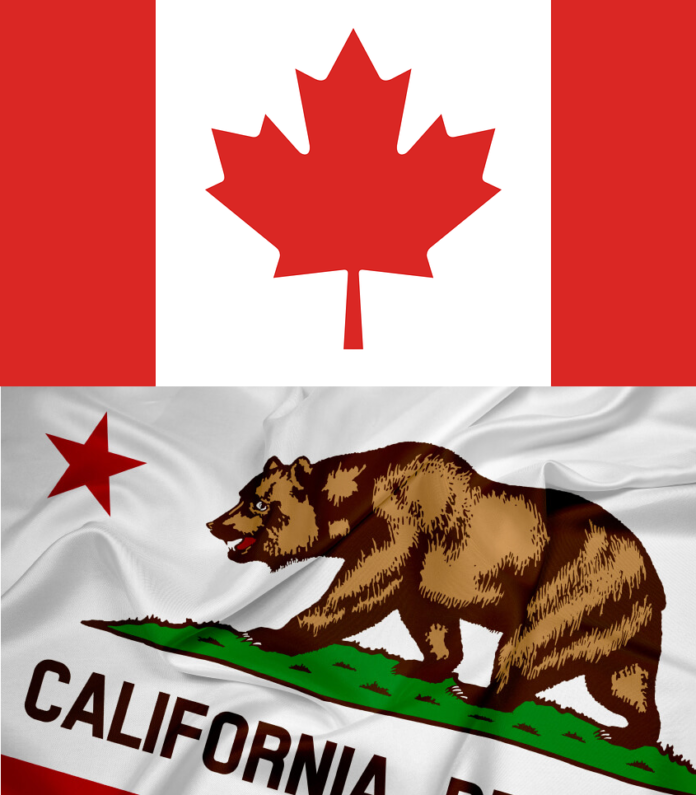 The State of California has formed a new partnership with Canada for the advancement of cleaner vehicles and fuels.
With nearly a quarter of Canada's carbon emissions and over 40% of California's coming from the transportation sector, cleaner vehicles and fuels can make a huge contribution to meeting climate and clean air goals, the partners say.
Today, Canada's minister of environment and climate change, Catherine McKenna, and the chair of the California Air Resources Board (CARB), Mary Nichols, signed the new cooperation agreement. The memorandum of understanding commits both governments to work together on developing their respective regulations to cut greenhouse-gas emissions from light-duty vehicles.
"It's great news that Canada will be working even more closely with California on fighting climate change with cleaner cars, trucks and fuels," says McKenna. "Working together means a bigger market for clean cars in North America, giving Canadians more choices to save on fuel costs and cut pollution. We need to advance clean technology and make it affordable for everyone."
Nichols adds, "With California and Canada solidifying our partnership, which represents half of the North American auto market, both recognize that cleaner vehicles and fuels will be critical to combating climate change, cleaning up air across our communities, and saving Canadians and Californians money at the pump."
The partnership will see Canada and California work together to accelerate the adoption of zero-emission vehicles. This could include sharing lessons learned by both jurisdictions about requirements, incentives and dealer inducements to boost sales, along with sharing approaches to developing charging infrastructure. The cooperation also plans to establish a working group that would meet annually.
The two jurisdictions will also share technical information and best practices in regulating cleaner fuels, as California does today though its Low-Carbon Fuel Standard. Canada is also developing a Clean Fuel Standard.
"California takes a backseat to no one when it comes to combating climate change, standing up for clean air and protecting the health of future generations," comments Gov. Gavin Newsom, D-Calif. "We look forward to working with Canada to adopt clean technologies that take us closer to our clean air goals."
Canada aims to have 100% of vehicles sold in the country be zero-emission by 2040. California requires automakers to ensure that a growing fraction of their sales are zero-emission vehicles and aims to have 5 million zero-emission vehicles on the road by 2030.
Thirteen states working with California on regulations to cut vehicle emissions are Colorado, Connecticut, Delaware, Maine, Maryland, Massachusetts, New Jersey, New York, Oregon, Pennsylvania, Rhode Island, Vermont and Washington. Combined, these states and California constitute over 40% of the U.S.' passenger vehicle market.