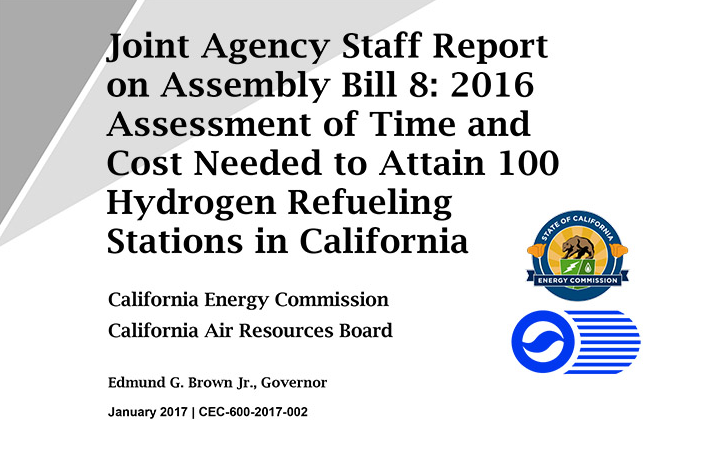 The California Energy Commission (CEC) and California Air Resources Board (CARB) have released the annual Joint Agency Staff Report on A.B.8: 2016 Assessment of Time and Cost Needed to Attain 100 Hydrogen Refueling Stations in California.
As reported, the analysis updates the time and cost assessments to design, permit, construct and make hydrogen refueling stations operational and open retail for the stations funded under the Alternative and Renewable Fuel and Vehicle Technology Program (ARFVTP).
The report's abstract notes that as of Dec. 5, 2016, 25 open retail stations are selling hydrogen for use as a transportation fuel and another 23 stations are under development to become open retail and sell hydrogen to the public. Combined with two additional CARB-funded stations that are open non-retail, California's hydrogen refueling station network is composed of 50 stations.
2016 has seen the greatest growth in the number of open retail stations in California since the A.B.118 and A.B.8 programs started. When the 2015 Joint Report was published, six stations were open retail.
The report highlights the following:
The growth in fuel cell electric vehicle (FCEV) deployment reveals a "striking increase" in the amount of hydrogen being dispensed statewide. Today's open retail stations provide a hydrogen supply that exceeds the demand of the FCEVs registered in California, but projections indicate that California will have a hydrogen dispensing capacity shortfall around 2020. The CEC, CARB and their partners are working to ensure future stations provide effective statewide coverage and appropriate capacity and are working to reduce the time and cost of station development.
Hydrogen refueling station development time has decreased from, on average, more than four years to two years. The station that progressed from permitting and construction to open retail the quickest is the station in Coalinga, which reached open retail status in roughly 17 months.
The remaining cost to reach the 100-station milestone is $125 million. With the business-as-usual $20 million per year in ARFVTP funding, the 100-station milestone is projected to be achieved in 2024.
The report includes extensive data about financial assessments, fueling trends, social and environmental impacts, and station siting. Click here for the full report.