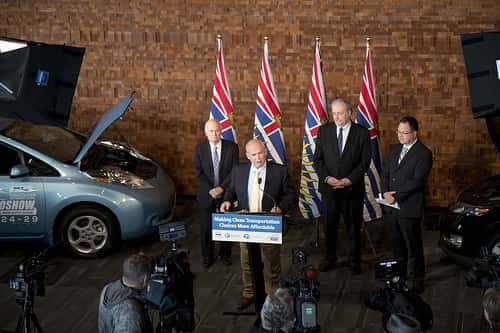 The British Columbia government has announced new incentives to help make electric vehicles (EVs) more affordable in the province and reduce greenhouse-gas emissions.
Earlier this week, Minister of Energy and Mines Bill Bennett said the province will offer incentives of up to C$5,000 for the purchase or lease of a new battery electric or plug-in hybrid electric vehicle, as well as up to C$6,000 for a hydrogen fuel cell vehicle. When combined with the province's SCRAP-IT program incentives, total savings could be up to C$8,250 for an EV.
The new incentives are part of Phase 2 of the Clean Energy Vehicle (CEV) program, which starts on April 1 and will distribute C$10.6 million from the province's Innovative Clean Energy Fund over the next three years for the following purposes:
– C$7.5 million for point-of-sale incentives for electric and hydrogen fuel cell vehicles;
– C$1.59 million for investments in charging infrastructure and hydrogen fuelling infrastructure;
– C$1 million for incentives for commercial fleet purchases of clean energy vehicles; and
– C$500,000 for research, training, and public outreach on clean energy transportation technology.
According to the Ministry of Energy and Mines, the first phase of the CEV program ran from 2011 to 2014 and helped support the purchase of 950 EVs and the development of over 1,000 charging stations.
The agency will administer and implement the CEV program through partnerships with the New Car Dealers Association of British Columbia, the Fraser Basin Council, and the Canadian Hydrogen and Fuel Cell Association.