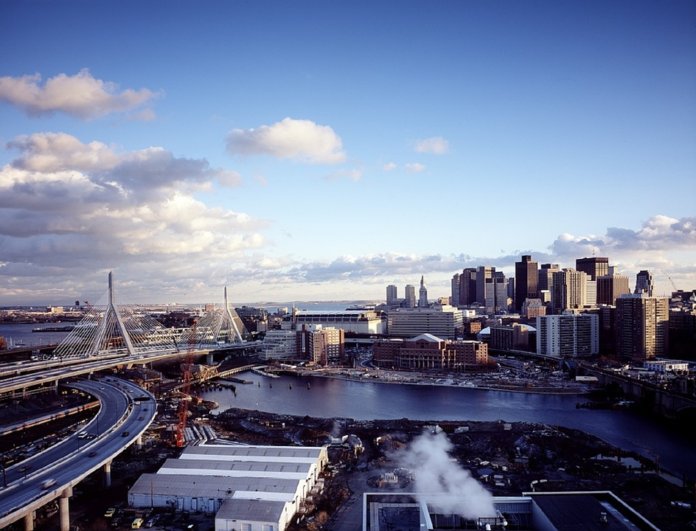 Boston Mayor Martin J. Walsh has announced the city's next steps in updating its Climate Action Plan, which includes efforts to reduce transportation emissions.
The update includes a project beginning early next month to develop implementation road maps to significantly reduce Boston's overall carbon emissions. The road maps will identify critical action pathways for Boston's public and private building and transportation sectors, strengthening the strategies needed to achieve the city's long-term goal of achieving carbon neutrality by 2050, a priority underscored through the newly released Carbon Free Boston report by the Boston Green Ribbon Commission.
According to the Carbon Free Boston report, Boston will achieve its climate goals if it pursues three strategies simultaneously: reduce demand for energy by increasing efficiency, convert most fossil fuel use to run on electricity and buy 100% clean energy. The city will convene key partners and stakeholders to identify how Boston can continue to equitably act on these strategies over the next several years. The group will specifically look at accelerating the following actions:
Deep-energy retrofits and electrification programming, requirements, and incentives in Boston's existing buildings;
Zero net carbon construction in Boston's new buildings;
Electric vehicle (EV) adoption and the installation of charging infrastructure, including for Boston's municipal fleet; and
Integrating "new mobility" modes with Boston's legacy public transportation system, including travel demand management.
The Carbon Free Boston report underscores the importance of the 58 projects laid out in Go Boston 2030, the city's plan to create a safer, more equitable and low-carbon transportation future. The Boston Transportation Department is hiring 20 new staff to implement active and public transportation projects in Go Boston 2030, to develop a roadmap for mass-scale EV adoption in Boston, and to reduce demand for car travel through commuter incentives and new mobility.
"As we enter a new era of our city's history," says Walsh, "we're planning for storms, climate change and the environmental threats the next generation will face."
"We applaud the work done by the Green Ribbon Commission and the City of Boston in laying out a clear pathway to reach our emissions-reductions goal," notes Deb Pasternak, director of the Massachusetts Sierra Club chapter. "The recommendations in Carbon Free Boston, including aggressive action on transportation and building energy efficiency and purchasing 100 percent renewable energy, are right on target. We urge Mayor Walsh to commit to implementing these essential strategies through an approach that benefits the city's most vulnerable residents."
The update to the city's Climate Action Plan is set to be completed this year.