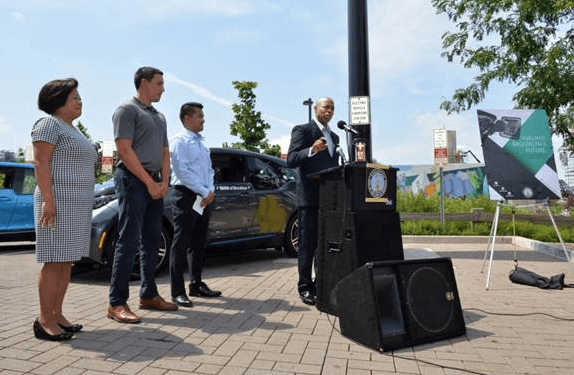 Brooklyn Borough President Eric L. Adams has unveiled "Fueling Brooklyn's Future: Refueling Needs in a Resiliency Era," a report with recommendations for modernizing Brooklyn's gas stations with sustainable fueling solutions.
The announcement took place at the electric vehicle charging stations in the parking lot of Whole Foods Market in Gowanus, beside several clean energy cars.
One of the vehicles, a Toyota Mirai powered by hydrogen fuel cell technology, was driven by Adams to the press conference; while there are currently three such vehicles that are publicly available on the market, he highlighted that none of them would be able to operate regularly in New York City due to the lack of fueling stations.
"When it comes to creating the infrastructure needed to support the future of fueling Brooklyn, we're stuck in neutral," says Adams. "Fossil fuel is a thing of the past. Let's find ways to encourage industry to grow here around hydrogen and electric vehicles. If we're asking the industry to prioritize, we have to incentivize and have our businesses and corporations find reasons to invest in this new, cutting-edge technology."
Adams, who convened a hearing last November to address the fueling infrastructure challenges facing Brooklyn, discussed the imperative for the city and state to step up and prepare for technology and resiliency adaptions that the borough's gas stations and alternative fueling sites need to make.
According to his office, since Superstorm Sandy, nine stations have closed in Brooklyn, with two more planning to close and another 12 being at risk in the next few years, including locations in Bushwick, Clinton Hill, Downtown Brooklyn, Greenpoint, Midwood, Sheepshead Bay and Sunset Park. His report notes that "the borough's land prices have skyrocketed, often making residential, commercial or hotel development the highest value for land where gas stations are sited."
Additionally, there are currently only 60 charging stations for electric vehicles across Brooklyn, with a significant dearth in central and southern neighborhoods that have higher rates of car ownership.
Key recommendations that Adams made in his report included his call for Empire State Development and New York City Economic Development Corp. to create incentives for businesses to retrofit existing stations with new electric vehicle, hydrogen and compressed natural gas stations.
As a resiliency measure to protect against fueling interruptions, such as those experienced in the aftermath of Superstorm Sandy, he also recommended New York Gov. Andrew Cuomo's Fuel NY initiative be expanded to provide backup power supply at every fueling station in the borough, incorporating solar panels, wind power and/or backup batteries that are not reliant on the main power grid to operate or generators to operate.
To protect existing fueling stations, Adams asked the New York City Department of City Planning to undertake a zoning text amendment to enable fueling stations in Fuel NY priority corridors to more liberally transfer development rights; in order to qualify, stations would have to incorporate resilient power-generating measures and alternate-fuel technologies into station redesign.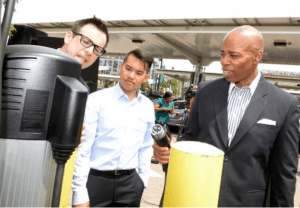 Additionally, to support and encourage technological innovation to improve resiliency and decrease reliance on fossil fuels, he announced that he will commit capital funding to the New York City Department of Transportation for the siting of electric vehicle charging stations in Brooklyn.
Adams thanked groups that provided feedback and testimony that contributed to the report, including the American Automobile Association (AAA), Air Liquide, Brooklyn Community Board 1, National Grid and the New York League of Conservation Voters.
"Borough President Adams has prepared a detailed analysis of his county's preparedness as it relates to the past, present and future of providing fuel, gasoline and alternatives for the many drivers in the area," says Robert Sinclair, northeast manager of media relations for AAA. "The report's recommendations should serve as a guideline for our entire region to ensure adequate fuel supplies for the growing number of vehicles on our roads during normal and crisis situations."
"Borough President Adams' support for the electrification of transportation and the infrastructure to enable it in Brooklyn, coupled with commitments from Mayor de Blasio and utilities like Con Edison and many others in New York City, marks an exciting milestone for the city," says Anne Smart, vice president of public policy for ChargePoint Inc. "Collaborating with partners like BMW, Pfizer Energy, Whole Foods and community leaders to install charging stations is an important first step in helping to enable the increased adoption of electric vehicles in the New York City area."
"The future of urban mobility is dependent on switching to alternative energy solutions and electrification, and I commend Borough President Adams for focusing on sustainable options," says Alejandro Agag, founder and CEO of Formula E. "This vision is part of what drew us to Brooklyn for our upcoming race, and we look forward to working with all New York City residents to achieve our shared energy and climate goals."
Notably, Adams' report comes out at a time of significant transformation in the auto industry. Within the last week, Volvo became the first mainstream automaker to plan a move to an all-electric fleet, while Tesla began to manufacture its first mass-produced affordable electric vehicle. This weekend, Formula E, the world's first fully electric single-seater racing series, is preparing to hold the inaugural New York City ePrix in Red Hook.
Photos courtesy of Erica Sherman/Brooklyn BP's Office