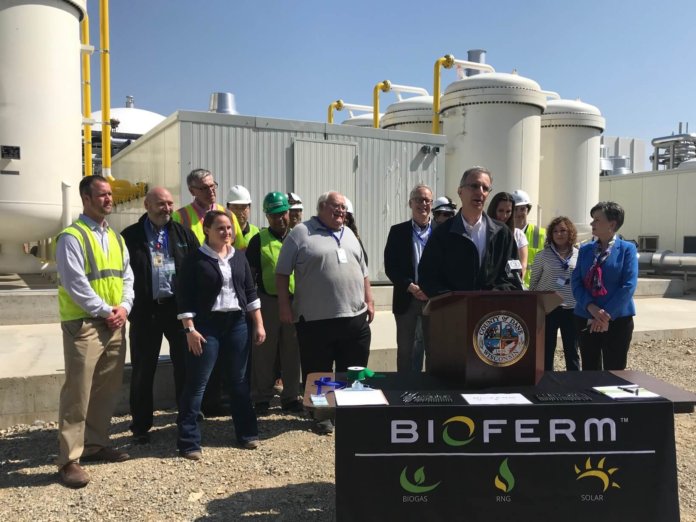 Dane County, Wis., recently celebrated the completion of its landfill biogas project.
The county's facility is now able to turn trash and cow manure into renewable natural gas (RNG) and inject it into the interstate transmission pipeline. It can then be bought and sold for powering fleets of natural gas vehicles. Dane County's facility also has a biogas offloading station to allow other biogas producers, such as manure digesters, to inject their gas into the pipeline.
"It's exciting to have this first-of-its-kind project reach the finish line so our area can begin to reap the financial and environmental benefits of the renewable fuel our landfill now generates," says Dane County Executive Joe Parisi. "A huge thank you goes out to our partners and dedicated staff who made this possible. Dane County's landfill biogas facility and offloading station will advance our clean lakes and air efforts and also benefit Dane County taxpayers."
The facility is expected to displace 3 million gallons of fossil fuels in the first year of operation, with this number growing to 4 million gallons per year in the future. In addition to the environmental benefits, Dane County will generate enough revenue from the facility to pay back the $28 million cost of the project in just a few years.
Earlier this year, Parisi announced Kwik Trip as one of the primary dispensers of the renewable vehicle fuel generated by the facility. Through Kwik Trip's partnership with Dane County, the company will be able to dispense RNG from the pipeline, sell it at the company's growing list of RNG fueling stations, and power vehicles across the Midwest.
"Sustainability innovation has long been a part of the culture at Kwik Trip. For that reason, we are fortunate to partner with Dane County's landfill biogas facility," comments John McHugh, director of public relations at Kwik Trip.
Dane County selected BIOFerm Energy Systems, a local company in Madison, Wis., to build the project. BIOFerm designed, engineered, commissioned and provided technology for the biogas upgrading facility at Dane County's landfill.