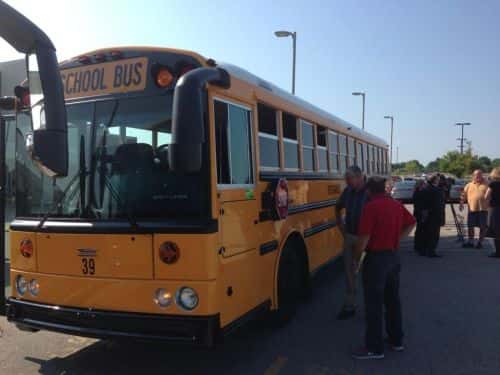 The school district in Lee's Summit, Mo., a city of about 100,000 located just south of Kansas City, is taking delivery this week of the first two units in a planned 100-plus deployment of school buses that run on compressed natural gas (CNG).
Dr. David McGehee, the district's superintendent, said on Twitter that this is the largest CNG school bus conversion initiative in the U.S. – one that will save the district an estimated $10 million in fuel costs over the next 10 years.
The Kansas City Star reports that Thomas Built Buses is the supplier of the vehicles. The company has been producing its Saf-T-Liner HDX CNG bus – a full-size, 36,200 lbs. GVWR vehicle that features the 8.9-liter Cummins Westport ISL G engine – for the past two decades.
These initial two buses are just the tip of the iceberg for Lee's Summit. Plans call for 106 CNG-powered units to roll into service during the coming school year. The entire bus fleet numbers approximately 150 units, and at least 139 of them will be running on natural gas within the next decade, according to the article.
Moreover, the district will be converting about 50 additional trucks and vans that it uses in various applications.
In terms of refueling, Lee's Summit is working with Clean Energy Fuels on a $2.2 million CNG infrastructure project. Public-access fueling capacity – set for completion this fall – will be sited on district-owned property.