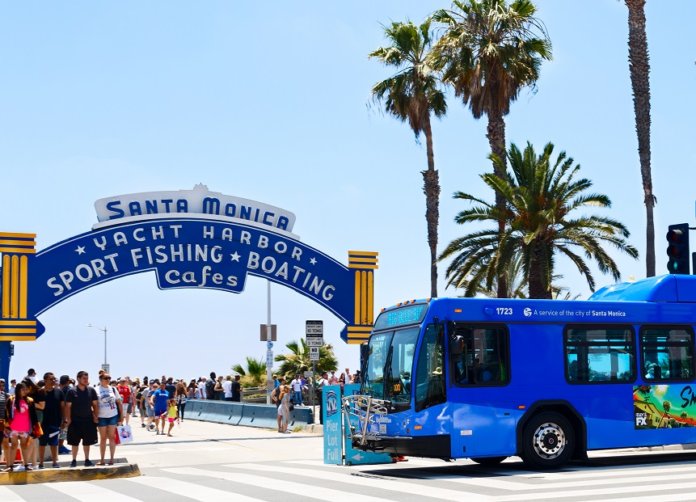 Santa Monica, Calif.-based Big Blue Bus (BBB) has announced the next phase of upgrades for its fleet of 100% alternative fuel vehicles.
Serving Santa Monica and the Los Angeles area since 1928, BBB operates a fleet of 200 vehicles transporting more than 54,000 customers daily across a 58-square-mile service area. In 2015, BBB became one of the country's first municipal transit agencies to convert its entire fleet to renewable natural gas (RNG).
BBB will invest $18.3 million in Federal Transit Administration (FTA) and California Proposition 1B Bond funds to replace 50 40-foot New Flyer buses purchased between 2004 and 2006. Seven 30-foot Gillig buses will be placed in service this week; an additional 20 40-foot Gillig buses will be delivered and commissioned in October. The agency plans to commission an additional 23 40-foot Gillig buses by December.
BBB says buses will be equipped with Cummins-Westport near-zero engines and fueled by RNG, further reducing nitrogen oxides (NOx) vehicle emissions over 90% by December.
Upgrades include a new 10-inch monitor to display a live feed from a security camera mounted near the front door; new wheelchair securement; two retractable seats that can be stowed in an upward position; new silver LED destination signs; electric-assist power steering; and slip-resistant flooring.
The average age of BBB's current fleet is less than seven years old, outpacing an industry best practice of 8.5 years, the company says.
"We are making a significant investment to modernize one-quarter of our fleet with new and exciting technology that will deliver a safer, more comfortable travel experience for customers and operators," says Ed King, director of transit services. "Further, reshaping our fleet with smaller, more agile, 30-foot vehicles will create new opportunities for ridership growth by enabling us to safely and efficiently serve customers on narrower streets and corridors. The fleet enhancements are part of a larger series of strategic improvements we will roll out over the next 12-18 months."